The IRM Visitor Center on Main Street
The Illinois Railway Museum's Visitor Center is our next step into the future.
Come grow with us!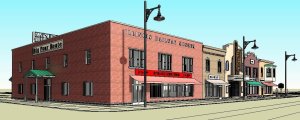 The Illinois Railway Museum is pleased to announce the completion of initial planning work for a new Visitor Center to be located on Main Street, across from the Schroeder Mercantile Store. Fundraising for this structure has commenced and sponsorship opportunities are available.
The Visitor Center will be a single-story building incorporating the main public entrance to the museum, permanent and revolving historic exhibits, configurable classroom and event space, movie/presentation area, a gift shop, offices, storage space, and expanded public facilities.
The proposed building will provide a year-round entry point for the museum, a home for historic exhibit pieces, and a flexible venue for hosting school groups and private events. The Visitor Center will make it possible for IRM to greatly enhance our role in the communities we serve and broaden our appeal to museum attendees.
We need your assistance to turn this vision into reality.