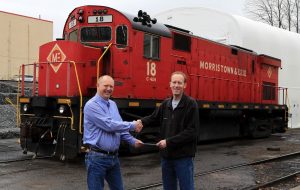 The Illinois Railway Museum is proud to announce that it is the owner of Morristown & Erie C424 18, former Toledo Peoria & Western 800. This is the museum's first Alco-built Century locomotive, filling a big gap in the museum's unrivaled collection of historic diesels. On Friday April 27th, Chuck Jensen (L), Vice President & Chief Operating Offer of the M&E, handed over the paperwork for the engine to Jamie Kolanowski, IRM Internal Combustion Department Curator.
This locomotive was built by September 1964 by Alco for the TP&W as that railroad's first Alco "Century" series locomotive. Along with identical locomotive number 801, TP&W 800 powered freight trains in daily service for nearly twenty years, until it was sold in 1983 to the M&E in New Jersey. Since that time it has stayed in active use and remains fully operational.
This is the second TP&W diesel in IRM's collection. Number 800 joins TP&W 400, an older RS-11 type locomotive built by Alco in 1958, representing the "Tip-Up" at Union.
There's still a pressing need to raise funds to transport this locomotive to IRM and fund track storage. Please see www.irm.org/tpw800 for more information and to check out some of the great gifts that are available to donors.