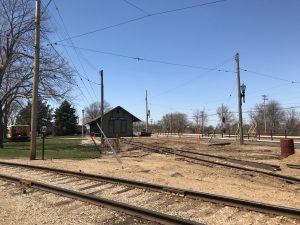 The former site of four railroad cars containing the IRM gift shop and bookstore, just to the east of the museum's East Union Depot, has been substantially cleared. The work was done by the museum's Buildings & Grounds and Track Departments and involved removal of the railroad cars via a temporary connection to the streetcar line. The deck, ramps, and steps leading to these cars were also removed by museum workers. The site will remain clear for the time being until a decision is made for a permanent use for this site.
The change follows the relocation of the museum gift shop and bookstore from this location to the Schroeder Mercantile Store, located on the museum's Main Street scene west of 50th Avenue 'L' station. The Schroeder building, an historic store originally located in nearby Union, was completely restored by IRM and opened to the public in November 2017.
Between the early 1980s and April 2018, the location east of the depot held four cars which were employed as the museum's bookstore and gift shop. Chicago & North Western 8202, a 1950 RPO/express/baggage car built by Pullman-Standard, served as the gift shop; Chicago & North Western 1236, a wooden baggage car built by Pullman in 1908, served as the stock storage car; Chicago & North Western 8728, a heavyweight baggage car built in 1923 by American Car & Foundry, served as the bookstore; and Pullman 7271, an Army troop sleeper built in 1943 by Pullman-Standard, served as the bookstore annex. The last time any of the cars moved was in 1991 for the filming of the movie "A League of Their Own," when the two cars on the north track were removed via a temporary track connection.