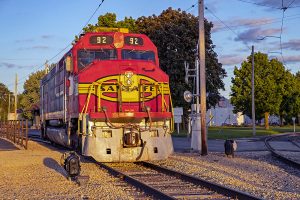 One of the most famous trains in America was the renowned Super Chief of the Atchison Topeka & Santa Fe Railroad (AT&SF) which ran between Chicago and Los Angeles. One of the last locomotives built for that train, AT&SF 92, has now been returned to operation by the Illinois Railway Museum, the nation's largest railway museum and home to the best collection of historic diesel locomotives in the country.
The locomotive in question, Santa Fe 92, is an FP45 type passenger locomotive built in La Grange, Illinois in 1967 by the Electro-Motive Division of General Motors. It was one of the last diesel locomotives ordered by an American railroad for use with passenger trains and was delivered just four years before the creation of Amtrak meant that passenger trains were no longer owned by the railroads. Following the creation of Amtrak, number 92 was used for hauling freight trains for some 20 years including the high-speed "Super C" intermodal trains known as the "world's fastest freight trains." In 1989 the locomotive was one of two FP45 diesels that debuted the Santa Fe's new "Super Fleet" high-speed freight service.
It wears the famous red-and-silver "Warbonnet" paint scheme which was created especially for the Super Chief when the train debuted in 1937. Designed to evoke the spirit of Native American cultures of the Southwest, the colors became synonymous with the Santa Fe and with that railroad's famous trains like the Super Chief, El Capitan, and Grand Canyon Limited. The paint scheme was retired in the 1970s but resurrected in 1989 for the "Super Fleet" program and number 92 was one of the first diesels painted in the traditional Santa Fe colors.
Santa Fe 92 was donated to IRM more than 20 years ago, in 1997, by the BNSF Railway. When donated it was not operational and had significant deterioration in its mechanical components. A fundraising program conducted during 2017 made it possible to ship the locomotive to National Railway Equipment, a professional rebuilding company in Silvis, Illinois. During late 2017 and early 2018 the locomotive was completely overhauled. Its first run under its own power at IRM was on June 3, 2018. The locomotive will be put into use on the museum's demonstration railway, pulling trains of museum visitors over IRM's railroad. Fundraising has also now commenced to restore the locomotive externally, including sheet metal work and a new paint job in "Warbonnet" red and silver. Click here for more information.