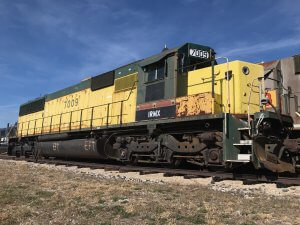 The Illinois Railway Museum, the largest museum of its kind in North America, continues to set the pace in diesel locomotive preservation by acquiring a pioneering example of locomotive development and the first of its model to be preserved.
Chicago & North Western 7009, a model SD50 locomotive built by the Electro-Motive Division of General Motors, joins the IRM collection after a pair of generous benefactors provided the funds to purchase the locomotive from its latest owner, National Railway Equipment Co. (NRE), a major broker, rebuilder and lessor of locomotives and rolling stock.
Built in November of 1985, 7009 was one of 35 SD50s (numbered 7000-7034) acquired by C&NW as part of a fleet modernization. Initially assigned to haul coal out of Wyoming's Powder River Basin, the SD50s later migrated to iron ore service in Upper Michigan and general freight service. After the original lease agreement expired, C&NW successor Union Pacific released all 35 units, whereupon they were sold to NRE for continued use in short-term lease service. 7009 was last known to have run in common-carrier service in 2006 and has since been stored, most recently at NRE's facility in Silvis, IL.
"(The) 7009 is a very significant acquisition for us," IRM's Curator of Diesel Locomotives Jamie Kolanowski commented. "Not only is it representative of one of Chicago's legendary railroads and built by Electro-Motive right here in Chicagoland, it is also in remarkably original condition, not having been rebuilt with aftermarket upgrades. It even still wears its original C&NW paint applied at the factory. Its historic fabric is extremely complete."
After being inspected and cleared for the move to Union, 7009 left Silvis for Blue Island, IL over the weekend in an Iowa Interstate freight. From Blue Island, the Indiana Harbor Belt and Union Pacific will move 7009 the rest of the way to the Museum, where it is expected to arrive later this week.
IRM plans to restore its full C&NW markings and make the locomotive fully operational for service on its 5-mile demonstration railroad. The 7009 is the very first SD50 locomotive to be preserved in a museum, even as sister SD50s continue to toil in common-carrier service on a variety of regional and short line railroads. At IRM, 7009 will be the seventh C&NW locomotive and the 26th EMD locomotive in the Museum's diesel collection, considered by many to be the most comprehensive in preservation.
While donations covered the purchase price, the cost of transportation and the track space assessment (a per-foot charge the Museum imposes on all new arrivals to cover the construction and maintenance of the track the equipment will occupy) still need to be covered. The Museum has established a special fund specifically to pay these charges for 7009 and future diesel locomotive acquisitions.
Donations can be made online at: https://www.irm.org/donations/diesel-transportation/