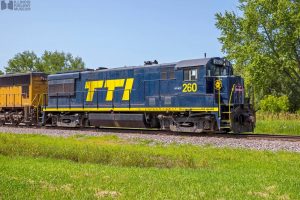 The Illinois Railway Museum (IRM) is pleased to announce that it has completed the acquisition of Transkentucky Transportation Railroad (TTI) 260, a U28B diesel locomotive, and has moved the historic engine to the museum's campus in Union. TTI 260 is the last surviving example of a U28B locomotive in original condition and it is the third U-series locomotive preserved at IRM. The museum gratefully acknowledges the donation of TTI 260 by CSX Transportation. The newly-acquired engine will be on public display during the museum's annual Diesel Days event on August 9th through 11th, 2019.
The U28B design was built by General Electric for only a year, from early 1966 to early 1967. It was the successor to the U25B, which was the first four-axle diesel built by GE in its "Universal" or U-series line of freight engines. The U28B was rated at 2,800hp, an increase of 300hp over the earlier U25B which had been in production for some seven years. A total of 148 examples of the U28B were constructed during 1966 and 1967 before GE replaced the model with the U30B, a similar locomotive rated at 3,000hp which would remain in production for nearly a decade.
TTI 260 was built in January 1967 as Chicago Burlington & Quincy 114, one of 20 identical engines built for the CB&Q and one of the last type U28B locomotives built. In 1970 it was renumbered Burlington Northern 5458 and in 1987, by which time many of the U28B locomotives built had already been retired and scrapped, it was sold to TTI. It remained in service in Kentucky until the mid-2010s. In early 2019 the locomotive was donated to IRM by CSX Transportation and it was moved to Union in July. The museum plans to restore the locomotive to its original condition and appearance as time and funding permit.
IRM, home to the largest and most comprehensive collection of preserved diesel locomotives in North America, plans on restoring and operating TTI 260 as part of its historic fleet. The locomotive joins several other ex-CB&Q locomotives of different types at the museum, allowing IRM to represent virtually the entire span of internal combustion motive power used by that railroad. Its preservation also ensures that this model of locomotive does not go extinct. Donations towards TTI 260 to support its preservation and eventual restoration as CB&Q 114 are appreciated.