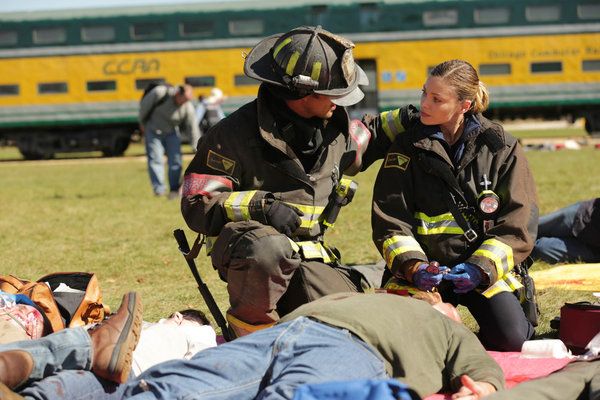 Trains have been a staple of movies since the earliest days of cinema. From Buster Keaton in The General to Denzel Washington in Unstoppable, trains have featured in many of the best-known and best-loved movies. And at the Illinois Railway Museum, we are proud to have played a supporting role in this history.
If you're interested in seeing the trains in the movies, you can view them any day the museum is open. See famous trains from the movies like the Nebraska Zephyr, Frisco 1630, and others. You can also check our calendar to see when these trains are running.
Interested in our trains joining the cast of your movie? Click here to contact us for more information.
Trains in the Movies
Trains featured in some of the earliest newsreel-style short-subject movies, dating back to the late 1890s. During the silent movie era, trains were a regular feature of many productions, with the most famous being the adventure-comedy film The General (1926) starring Buster Keaton.
Trains and railroads were the focal point of many movies during the glory days of Hollywood. These ranged from Cecil B. DeMille's sprawling western epic Union Pacific (1939), about the building of the transcontinental railroad, to Emperor of the North (1973), about hobos during the Great Depression. Railroads were also a favorite subject of Alfred Hitchcock, with trains featuring prominently in Strangers on a Train (1951) and North by Northwest (1959).
During the 1970s and 1980s, trains featured in both action and comedy movies. The Taking of Pelham One Two Three (1974) and Runaway Train (1985) both featured a heavy element of crime as well as spectacular action and crashes. Meanwhile, comedies like Silver Streak (1976) and Planes, Trains and Automobiles (1987) found the lighter side of train travel with memorable characters and set pieces.
In recent years, movies that prominently feature trains have often been action movies like Unstoppable (2010) or the science-fiction films Source Code (2011) and Snowpiercer (2014). One notable exception is the family-friendly animated film The Polar Express (2004). These are just a few of the best-known movies featuring trains – what's your favorite train movie?
The Illinois Railway Museum in the Movies
IRM has a vast collection of historic railway equipment. It's natural that some of our trains are a good fit for period piece movies. Trains in our collection have appeared in a number of films over the years: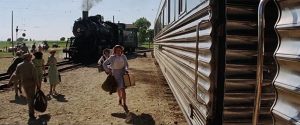 You can see many of these trains on display during your visit, including the Nebraska Zephyr in Barn 9, CTA 6655-6656 in Barn 8, North Chicago Street Railroad 8 in Barn 7, and the stainless steel train in Yard 5.
The Illinois Railway Museum on Television
In addition to appearing in numerous movies, IRM and its trains have also starred on a variety of television shows.
Under the Biltmore Clock (1986)
The Untouchables (1993-1994) – featuring Frisco 1630
Chicago Fire (2012-present) – featuring our C&NW bi-levels in an elaborate staged wreck – see photos of the film shoot here
Betrayal (2013-2014) – featuring the Nebraska Zephyr