Railroad Passenger and Baggage Cars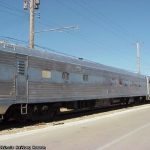 Pullman-Standard 1950
Atlantic Coast Line 'Birmingham'
| | |
| --- | --- |
| Description: | Stainless Dining Car |
Equipment Information
Atlantic Coast Line "Birmingham" is streamlined dining car built for service in the southeast. Dining cars like this were used on long-distance passenger trains to provide meals to riders. The car is designed with a built-in kitchen where full meals were cooked and prepared while moving and features an unusual table layout with triangular lounge-style seating in part of the car. After it was retired by Amtrak this car was used as an ice cream shop in Lansing, Illinois until it was brought to the museum. The "Birmingham" is IRM's only car from the ACL.
ACL "Birmingham" Details
Builder: Pullman/Pullman-Standard
Year Built: 1950
Seats: 36
Length: 85ft
Trucks: 4 Wheel
Description: Lightweight Diner
Arrived: 2004
Condition: Incomplete / unrestored / operational
Atlantic Coast Line "Birmingham" Ownership History
1950-1967 – Atlantic Coast Line "Birmingham"
1967-1971 – Seaboard Coast Line "Birmingham"
1971-1986 – Amtrak #8081 "Birmingham"
1986-2004 – ice cream parlor, Lansing, IL
2004-present – Illinois Railway Museum, Union, IL
What was the Atlantic Coast Line Railroad?
The Atlantic Coast Line, or ACL, was a major north-south transportation link in the southeastern United States. It was formed in the late 1890s by merging several predecessor railroads, and by the early 1900s it owned a network of lines stretching from Richmond, VA, south to Tampa, FL. The ACL also controlled a handful of other railroads, including the Louisville & Nashville. It was well known for operating passenger trains in conjunction with other railroads that joined Florida with cities in the northeast and Midwest, including Chicago. The ACL also carried large quantities of produce and other agricultural products from Florida and the Carolinas.
After WWII, the ACL used cars like the "Birmingham" on famous streamliners like the City of Miami, which ran from Chicago Miami; the Champion, which ran from New York City to Tampa and Miami; and the Seminole, from Chicago to Jacksonville. In 1967 the ACL merged with a competing railroad, the Seaboard Air Line, to form the Seaboard Coast Line Railroad, or SCL. The SCL would eventually become part of what is today CSX Transportation.