Railroad Passenger and Baggage Cars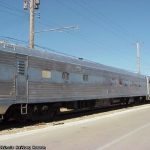 Pullman-Standard 1950
Atlantic Coast Line 'Birmingham'
| | |
| --- | --- |
| Description: | Stainless Dining Car |
Equipment Information
Atlantic Coast Line "Birmingham" is a streamlined dining car that operated in the southeastern U.S. Dining cars like this saw use on long-distance passenger trains providing meals to riders. The car features a built-in kitchen where chefs cooked and prepared full meals while moving. It also uses an unusual table layout with triangular lounge-style seating in part of the car. After Amtrak retired this car, it became an ice cream shop in Lansing, Illinois, until it was brought to the museum. The "Birmingham" is IRM's only car from the ACL.
ACL "Birmingham" Details
Builder: Pullman/Pullman-Standard
Year Built: 1950
Seats: 36
Length: 85ft
Trucks: 4 Wheel
Description: Lightweight Diner
Arrived: 2004
Condition: Incomplete / unrestored / operational
Atlantic Coast Line "Birmingham" Ownership History
1950-1967 – Atlantic Coast Line "Birmingham"
1967-1971 – Seaboard Coast Line "Birmingham"
1971-1986 – Amtrak #8081 "Birmingham"
1986-2004 – Privately owned, Lansing, IL (ice cream parlor)
2004-present – Illinois Railway Museum, Union, IL
What was the Atlantic Coast Line Railroad?
The Atlantic Coast Line, or ACL, was a major north-south transportation link in the southeastern United States. It was formed in the late 1890s by merging several predecessor railroads, and by the early 1900s it owned a network of lines stretching from Richmond, VA, south to Tampa, FL. The ACL also controlled a handful of other railroads, including the Louisville & Nashville. It was well known for operating passenger trains in conjunction with other railroads that joined Florida with cities in the northeast and Midwest, including Chicago. The ACL also carried large quantities of produce and other agricultural products from Florida and the Carolinas.
After WWII, the ACL used cars like the "Birmingham" on famous streamliners like the City of Miami, which ran from Chicago Miami; the Champion, which ran from New York City to Tampa and Miami; and the Seminole, from Chicago to Jacksonville. In 1967 the ACL merged with a competing railroad, the Seaboard Air Line, to form the Seaboard Coast Line Railroad, or SCL. The SCL would eventually become part of what is today CSX Transportation.
The Creation of Amtrak
During the 1960s, long-distance passenger trains in the United States saw a rapid decline. The construction of the interstate highway system and the increase in airline travel combined to create a perfect storm in which passengers abandoned passenger trains in droves. The U.S. Post Office stopped shipping mail on passenger trains in 1966, removing another source of income.
By the late 1960s railroads were losing huge amounts of money operating nearly-empty trains. Federal regulations required them to continue operating these trains, though. This contributed to the bankruptcy of huge companies like Pullman and Penn Central around 1970. In response, the U.S. government elected to assume operation of a core network of long-distance passenger routes. Railroads would pay a new hybrid public-private corporation to take over their passenger trains, relieving the privately-owned railroads of the financial burden. The Rail Passenger Service Act of 1970 created this new corporation, which acquired the brand name Amtrak.
On May 1, 1971, Amtrak took over passenger train operations of nearly all major railroads in the country, a total of 20 different railroads, and consolidated these routes into one nationwide system. At the time of Amtrak's formation it was widely expected to be short-lived; during the early 1970s long-distance train travel was often viewed as a doomed enterprise.
For years Amtrak trains operated largely with secondhand equipment inherited from the private railroads. This car, the dining car "Birmingham," is one such car – it originally ran for the Atlantic Coast Line and was part of Amtrak's "rainbow fleet" of diverse and mismatched railway cars. However Amtrak was able to slowly modernize and improve its fleet and services, acquire the profitable train operations along the Northeast Corridor, and halt the decline in ridership. It was never able to turn an operating profit but over time it became an accepted part of the nation's transportation infrastructure.
Click to return to Passenger Car roster
Click to return to main roster page