Internal Combustion Locomotives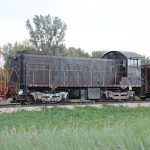 Lima-Hamilton 1951
Armco E110
| | |
| --- | --- |
| Description: | Diesel-Electric Switcher 1200hp |
Equipment Information
Armco E110 is one of only four Lima-Hamilton-built diesel locomotives in existence. It was built to switch cars for American Rolling Mill (Armco) at low speed. Its builder had been a famous steam locomotive manufacturer, but Lima failed to adapt well to the change from steam engines to diesels and went bankrupt in 1951. In fact, Armco E110 was the last locomotive ever built by Lima-Hamilton.
Armco E110 Details
Builder: Lima-Hamilton
Year Built: 1951
Model: LS-1200
Horsepower: 1200
Length: 47ft 10in
Width: 9ft 10in
Height: 14ft 6in
Weight: 250000 lbs
Brakes: 6DS
Engine: T-89-SA
Motors: 4 WH 362D
Trucks: AAR-A
Description: Diesel-Electric
Arrived: ????
Condition: Complete / unrestored / not operational
What was Lima-Hamilton?
Armco E110 is the only piece of equipment at IRM built by Lima-Hamilton. Lima-Hamilton was the result of a 1947 merger between the Lima Locomotive Works of Lima, OH, and the General Machinery Corporation of Hamilton, OH. Lima was a renowned steam locomotive builder dating back to the 1870s. For decades, it concentrated on building low-speed geared freight locomotives known as Shays. Starting in the 1920s, it inaugurated the "Super Power" concept of high-tractive effort, high-speed steam locomotives. The company met with great success building these, but once World War II ended and railroads stopped ordering steam engines in favor of diesels, Lima was slow to adapt.
Its 1947 merger gave Lima the ability to use diesel engine technology already developed by General Machinery Corporation, but it didn't sell its first diesel locomotive until 1949. Its engines also competed poorly with other, more established diesel manufacturers. Lima-Hamilton merged with the Baldwin Locomotive Works in 1951 to form Baldwin-Lima-Hamilton (BLH). BLH discontinued the line of former Lima-Hamilton diesel locomotives in favor of more popular Baldwin diesel designs.
Click to return to Internal Combustion Locomotive roster
Click to return to main roster page