Internal Combustion Locomotives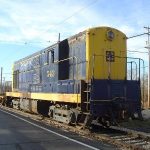 Fairbanks-Morse 1956
Atchison Topeka & Santa Fe 543
| | |
| --- | --- |
| Description: | Diesel-Electric H12-44TS |
Equipment Information
Santa Fe 543 is a rare example of a terminal switcher, a locomotive built specifically to move passenger cars around a railway station. Most switchers have the cab located at one end but instead this engine has a steam generator, for heating passenger cars in the winter, located at the end of the engine. It was assigned to Chicago's Dearborn Station its entire service life.
COMPARE ME WITH: Milwaukee Road 760, a similar switcher built by Fairbanks-Morse but without the added length to accommodate a steam generator.
Click here to find out how you can help support planned restoration work on Santa Fe 543.
Builder: Fairbanks-Morse
Year Built: 1956
Model: H12-44TS
Horsepower: 1200
Brakes: 24RL
Engine: 38D8-1/8 6-Cylinder Opposed Piston
Motors: 4 WH 362D
Trucks: AAR-A
Description: Diesel-Electric
Arrived: 2009
Condition: Complete / unrestored / not operational
Ownership History
1956-1988 – Atchison Topeka & Santa Fe #543
1988-2009 – California State Railroad Museum, Sacramento, CA
2009-present – Illinois Railway Museum, Union, IL
Click to return to Internal Combustion Locomotive roster
Click to return to main roster page