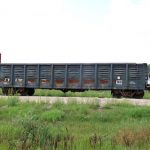 Gunderson 1965
Atlantic & Western 3762
| | |
| --- | --- |
| Description: | Steel Gondola |
Equipment Information
Atlantic & Western 3762 is an all-steel gondola built for the Southern Pacific to haul ore and other heavy commodities. In later years it was used for hauling scrap steel or other heavy bulk freight over the A&W's railroad in North Carolina. Gondolas like this one were once in common use carrying just about any type of freight that would not suffer from exposure to the weather.
Atlantic & Western 3762 Details
Builder: Gunderson Bros. Engineering Co.
Year built: 1965
Length: 46ft 9in
Width: 10ft 10in
Height: 9ft 8in
Weight: 60600
Brakes: ABD
Trucks: Barber S-2
Description: Steel Gondola / ex-SP 333762, class G-100-7
Arrived: 2006
Condition: Complete / unrestored / operational
What was the Gunderson Brothers Engineering Company?
A&W 3762 is the only car at IRM that is a product of the Gunderson Brothers Engineering Company. Gunderson got its start in 1919 when Chet and Alvin Gunderson opened a small electrical contracting company in Portland, Oregon. Their company began to specialize in automobile parts during the 1920s. In 1936 it began building truck trailers and then wheel hubs of a proprietary design. During World War II, the company engaged in ship building for the war effort. Gunderson worked as a subcontractor and built LCM-3 and LCM-6 landing craft as well as lifeboats.
After the war, Gunderson pivoted away from truck trailers and began supplementing its shipbuilding business with steel fabrication work, including bridges, industrial gates, and water tanks and pipes. In 1958 it began building steel underframes for freight cars, and by the early 1960s was constructing steel freight cars for several different railroads. Around the time A&W 3762 rolled out of the Gunderson plant in 1965, the Gunderson brothers retired and sold the company to FMC Corporation. The Gunderson plant has continued building freight cars up to the present, including development of a double-stack well car for intermodal service. Today it is a division of Greenbriar Corporation.
Click to return to Freight Car roster
Click to return to main roster page