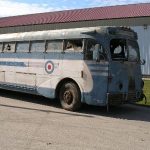 | | |
| --- | --- |
| Description: | Gas Bus Model 743 |
Equipment Information
During the first decades of the 20th Century, electric interurban railways connected many towns of all sizes across the Midwest, permitting convenient, safe, and fast travel, and easing the relative isolation experienced by rural citizens. Improvement of roads between those towns led to the downfall of interurban railways, not only from increased use of private automobiles, but also from new competition from intercity bus lines.
Starting in 1934, Yellow Coach Manufacturing, a division of General Motors, built 1,588 streamlined buses for Greyhound and affiliates under the name "Super Coach." These buses modernized Greyhound's fleet and helped the company grow rapidly. Number 512 was the last "Super Coach" built. It seats 37, plus two small children on folding seats in the rear aisle. This bus has a 707-cubic inch inline six-cylinder gasoline engine and a manual transmission, although most Model 743s were dieselpowered.
Most "Super Coaches" ran for Greyhound, but this bus is an exception. It was bought by Indian Trails Bus Lines under an agreement with Greyhound. It operated across southern Michigan, from Owosso to Flint, Saginaw, Lansing, Kalamazoo, and through to Chicago until c. 1952.
The Bee Line, a small independent bus operator running from Pontiac to Lapeer and Ann Arbor, Michigan, ran number 512 in its final years. It was retired in 1957 and preserved in GM's historic bus collection. In 1959, GM donated the entire collection to the Museum of Transport in St. Louis. IRM acquired it in 2015. It is complete, although not yet restored to operation.
Builder: Yellow Coach
Year Built: 1939
Model: Model 743
Seats: 39
Engine: GM 707
Transmission: manual
Description: Intercity motor Bus
Arrived: 2015
Condition: Complete / unrestored / not operational
Click to return to Motor Bus roster
Click to return to main roster page