Railroad Passenger and Baggage Cars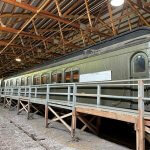 Pullman 1906
Boston & Maine 1094
| | |
| --- | --- |
| Description: | Wood coach-cafe car |
Equipment Information
Boston & Maine 1094 is a wood-bodied dining-café car designed for service on the B&M in New England. Its interior consists of three sections: a coach seating area, a small dining (or café) area with tables, and a kitchen. Cars like this saw use on intermediate-distance or lower-ridership trains where food service would be expected but a full-length dining car was not required. In later years car 1094 was converted into a "camp car" for railroad worker accommodation but has been largely restored to its original configuration at IRM.
Boston & Maine 1094 Details
Builder: Pullman
Year Built: 1906
Seats: 60
Length: 80ft 4in
Width: 10ft
Height: 15ft 1in
Weight: 133700 lbs
Brakes: P-2
Trucks: 6 Wheel Wood
Description: Wood Dining-Cafe Car
Arrived: 1997
Condition: Incomplete / restored / not operational
Read more about the history of this car in Rail & Wire #217
Boston & Maine 1094 Ownership History
1906-1930 – Boston & Maine 1094
1930-1942 – Boston & Maine 94
1942-1997 – Boston & Maine M3288
1997-present – Illinois Railway Museum, Union, Illinois
Wooden Car Construction
When railroads first appeared during the early 1800s, it was only natural that they would build railroad cars out of wood; there was no other feasible alternative. As the century progressed, cars gradually became larger, heavier, stronger, and faster. They were by no means death traps. Wooden cars such as this diner were stronger than they might appear, and would not just collapse into a pile of splinters in the event of a collision.
But the risk of fire could not be eliminated, and several well-publicized disasters made railroad safety a growing issue. By the first decade of the 1900's, the public demand for safer cars made of modern steel construction became overwhelming. The railroads resisted for a while, since steel cars were heavier and more costly to build. But there was an undeniable increase in safety, and steel cars had a longer service life with less maintenance expense.
Railroads began building all new cars of steel about 1910, although some wooden cars continued in service until the early 1950s . The Chicago Transit Authority ran wooden rapid transit cars until 1958. Pullman built this car at its plant in Chicago in 1907, at the very end of wooden car construction. It represents a triumph of the woodworker's art. The interior was finished in varnished and inlaid mahogany with leaded stained-glass windows, brass fixtures, and gas lighting. The exterior was dark "Pullman green" paint with gold leaf trim, lettering and striping. The wooden structure is 80' long and weighs over 60 tons, yet is able to withstand the stresses of heavy-duty railroad service. The railroad later reinforced it with a steel subframe, however. The B&M downgraded this car to use as a bunk car for track gangs. IRM volunteers have restored it to its original appearance.
Click to return to Passenger Car roster
Click to return to main roster page