Railroad Passenger and Baggage Cars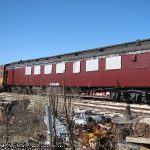 Pullman 1907
Boston & Maine 3285
| | |
| --- | --- |
| Description: | Wood Dining Car |
Equipment Information
B&M 3285 is a wood-bodied dining car built for service on the B&M railroad in New England. Dining cars like this were used on long-distance passenger trains to provide meals to riders. The car is designed with a built-in kitchen where full meals were cooked and prepared while moving. This car was converted into a "camp car" in 1948 and used for housing railroad maintenance crews.
Boston & Maine 3285 Details
Builder: Pullman
Year Built: 1907
Seats: 30
Length: 80ft 3in
Width: 10ft
Height: 15ft 1in
Weight: 124000 lbs
Brakes: P-2
Trucks: Pullman 5A 6 Wheel
Description: Diner Wood
Arrived: 1997
Condition: Incomplete / unrestored / not operational
Boston & Maine 3285 Ownership History
1906-1930 – Boston & Maine 1090
1930-1948 – Boston & Maine 90
1948-1997 – Boston & Maine M3285
1997-present – Illinois Railway Museum, Union, Illinois
What was the Boston & Maine Railroad?
The Boston & Maine, or B&M, was a regional "class one" railroad in northern New England. It was chartered in 1835 and by the early 1840s owned a main line between Boston, MA, and Portland, ME. Over time, through construction and acquisitions, it amassed a network of railroad lines throughout Massachusetts, New Hampshire, and southern Maine. The B&M network extended as far west as Troy, NY, and as far south as Springfield, MA. For a time the railroad also controlled the Maine Central Railroad, which gave it connections to northern Maine and New Hampshire.
The B&M was known in the mid-20th century for famous passenger trains like the Green Mountain Flyer and the Flying Yankee, as well as for a robust commuter operation out of Boston. Although the railroad went bankrupt in 1970, it continued operating as an independent entity until purchased by a holding company in 1980. Over time the B&M name was dispensed with, and today the holding company operates under the name Pan Am Railways.
Click to return to Passenger Car roster
Click to return to main roster page