Internal Combustion Locomotives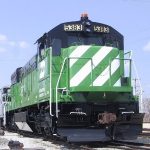 GE 1974
Burlington Northern 5383
| | |
| --- | --- |
| Description: | Diesel-Electric U30C |
Equipment Information
Burlington Northern 5383 is a diesel freight locomotive built for freight service over the BN system. This locomotive was part of a series that BN ordered primarily to haul coal trains out of the Powder River Basin in northern Wyoming. It is part of the GE Universal-series of freight engines.
Burlington Northern 5383 Details
Builder: General Electric
Year Built: 1974
Model: U30C
Horsepower: 3000
Length: 67ft 2in
Width: 10ft 4in
Height: 16ft 2in
Weight: 420000 lbs
Brakes: 26L
Engine: 7FDL16
Motors: 6 GE 752
Trucks: Adir 6 Wheel
Description: Diesel-Electric / Universal Series
Arrived: 1994
Condition: Complete / restored / operational
Powder River Coal
In the decades after World War II, railroads in America shrank considerably. Thousands of miles of tracks were abandoned and torn up. There was only one place in the country where the railroads built hundreds of miles of tracks into previously empty country: the Powder River Basin (PRB) in northeastern Wyoming and central Montana. The reason was coal.
The PRB holds huge deposits of coal which until the late 20th century had little value because it only produces about two-thirds as much energy as Appalachian coal. However, PRB coal has far less sulfur than Appalachian coal, meaning it burns cleaner. In the 1970s, as environmental regulations started to tighten, PRB coal began to attract business from power plants that needed to cut emissions. The Burlington Northern and Chicago & North Western constructed all-new railroad lines into Wyoming to serve the PRB coal fields and began transporting huge quantities of coal out of the region using heavy freight locomotives like this one.
PRB coal became even more popular with power plants after the 1990 expansion of the Clean Air Act. At the peak in the early 2000s, the railroads hauled over 300 million tons of coal out of the PRB every year. The coal traffic had an enormous impact on western railroads, comprising more than a third of Burlington Northern's total revenue and contributing to the financial stability and success of most of the railroads in the Midwest and west. Today, while coal traffic is down, the PRB is still the largest coal-producing region in America and almost all the coal produced is still transported out of the area by rail.
Click to return to Internal Combustion Locomotive roster
Click to return to main roster page