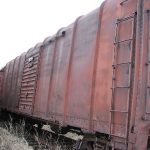 B&O 1922
Baltimore & Ohio 374065
| | |
| --- | --- |
| Description: | XM Wagon Top Box Car |
Equipment Information
B&O 374065 is a rare example of a "wagon-top" boxcar, a design constructed exclusively by the B&O with an all-steel round-topped body. It was built as a modernization of an older wooden boxcar and was used for general freight service on the B&O system.
Builder: Baltimore & Ohio
Year Built: 1925
Length: 44ft 9in
Width: 9ft 10in
Height: 14ft 6in
Weight: 44000 lbs
Brakes: AB
Trucks: Barber/Bettendorf LM
Arrived: 1991
Description: Wagon Top Box Car class M-15N
What was the Baltimore & Ohio Railroad?
This car is IRM's only freight car from the Baltimore & Ohio, or B&O. The B&O wasn't just any other railroad – it was the very first common carrier railroad in the United States, opening its first section west from Baltimore in 1830. Its main line extended west through present-day Virginia and West Virginia to the Ohio River Valley and was heavily used – and frequently attacked – during the Civil War. In the 1870s and 1880s the B&O extended into the Midwest, with lines to Pittsburgh, Columbus, Cleveland, Chicago, and St. Louis. In 1973 the B&O was incorporated into the Chessie System and later, in 1986, Chessie was absorbed into CSX Transportation.
Click to return to Freight Car roster
Click to return to main roster page