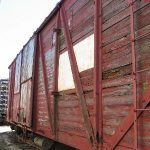 Pullman 1924
Chicago & Alton 39167
| | |
| --- | --- |
| Description: | XA Wood Auto Car |
Equipment Information
Chicago & Alton 39167 was built for the purpose of carrying automobiles. Similar to a standard boxcar, it is fitted with much wider double doors for easier loading of automobiles from a platform alongside the tracks. It is a "single-sheathed" car, built with exposed structural members and only a single layer of siding. After retirement the car was used by the C&IM in maintenance-of-way service as car number X81. It is a rare example of a preserved freight car from the C&A and is typical of automobile cars built between the mid 1910s and late 1920s.
COMPARE ME WITH: Soo Line 41146, a similar "single-sheathed" car that was built for general freight service. The Soo Line car has much narrower side doors that would not be able to accommodate an automobile.
Builder: Pullman/Pullman-Standard
Year Built: 1924
Length: 44ft 8in
Width: 9ft 5in
Height: 14ft 2in
Weight: 48500 lbs
Brakes: AB
Trucks: Bettendorf
Description: Wood Auto Car (ex C&A 39167)
Arrived: 1981
Condition: Complete / unrestored / not operational
What was the Chicago & Alton Railroad?
The C&A, often simply called "the Alton," was a railroad built in 1850s between Chicago and St. Louis that later extended its main line west to Kansas City. In the late 1800s the Alton was known for its high-speed passenger service between Chicago and St. Louis. It often carried more passengers over that route than all of its competitors combined. The Alton was also the first railroad to operate a sleeping car in regular service, in 1859, and the first railroad to operate a dining car in regular service, in 1868.
But in the early 1900s the railroad hit hard times. In 1906 the railroad was bought by investors who incurred massive amounts of debt, and after an ownership change in 1914 the Alton went bankrupt in 1922. It was placed into receivership, where a "receiver" representing the creditors controls the railroad and its finances. One of very few capital expenditures that was made during the Alton's receivership was to purchase new automobile cars in 1924, a purchase that included IRM's car, because it was necessary to buy new auto cars to protect the railroad's lucrative automotive traffic emanating from the Chicago manufacturing hub.
The C&A ended up being sold to the Baltimore & Ohio in 1931, at which time it was renamed simply the Alton Railroad, and then the Alton was sold to the Gulf Mobile & Ohio in 1947 and was fully absorbed into that system. Today the main line of the Alton is still in use as the primary freight and passenger route between Chicago and St. Louis.
Click to return to Freight Car roster
Click to return to main roster page