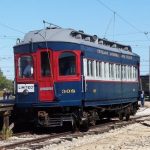 Niles 1906
Chicago Aurora & Elgin 308
| | |
| --- | --- |
| Description: | Double-end railroad-roof wood coach |
Equipment Information
Chicago Aurora & Elgin 308 is a heavyweight wooden interurban coach designed for high-speed service between Chicago and the Fox River Valley. It remained in service for 51 years until the CA&E abandoned passenger service in 1957. It has been completely restored by IRM volunteers to its appearance in the late 1940s.
FUN FACT: Car 308 was a museum's first car – just not our museum's first car. It was the first piece of equipment ever acquired by the Indiana Museum of Transportation and Communication in Noblesville, Indiana, which is now defunct. IRM purchased car 308 in 1998 and restored it to operation.
COMPARE ME TO: Lake Shore Electric 150, another interurban car built in 1906 by Niles. The LSE car is single-ended, intended for longer trips without having to switch directions, and it lacks doors on the ends of the car, since it was designed to mostly run solo instead of in trains of cars like the CA&E used.
Click here to find out how you can help return car 308 to operation
Builder: Niles
Year Built: 1906
Seats: 52
Length: 53ft 1in
Width: 8ft 7in
Height: 13ft
Weight: 75000 lbs
Brakes: AMM
Motors: 2 GE 66B
Control: M-C21
Compressor: D3-EG
Trucks: Pullman
Description: Double End / Double Truck / Railroad Roof / Wood Coach
Arrived: 1996
Condition: Complete / restored / not operational
Read more about the history of this car in Rail & Wire #209 and #210
Ownership History
1906-1922 – Aurora Elgin & Chicago #308
1922-1962 – Chicago Aurora & Elgin #308
1962-1996 – Indiana Museum of Transportation and Communication, Noblesville, IN
1996-present – Illinois Railway Museum, Union, IL
Click to return to Interurban Car roster
Click to return to main roster page