Internal Combustion Locomotives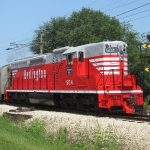 EMD 1959
Chicago Burlington & Quincy 504
| | |
| --- | --- |
| Description: | Diesel-Electric SD-24 |
Equipment Information
Chicago Burlington & Quincy 504 is a diesel freight locomotive designed as a "road switcher" for general freight train service. It was one of the first diesel locomotives built with a turbocharged engine, which gave it higher horsepower. It was later renumbered Burlington Northern 6244.
FUN FACT: This locomotive is one of IRM's movie stars. It was featured in the 1993 Bill Murray comedy "Groundhog Day," where it nearly runs over several of the film's stars. It wasn't until years later that it was repainted into its current (original) red livery.
COMPARE ME WITH: Green Bay & Western 2407, an American Locomotive Company (ALCo) RSD-15. The RSD-15 was a direct competitor to the SD-24, offering the same horsepower output using ALCo's famed 251 diesel engine. However, the RSD-15 fell short with customers, selling only 75 locomotives compared to 224 examples of EMD's SD-24.
Builder: Electro Motive Division GM
Year Built: 1959
Model: SD-24
Horsepower: 2400
Length: 60ft 8in
Width: 10ft 8in
Height: 14ft 1in
Weight: 328000 lbs
Brakes: 26L
Engine: 16-567D3
Motors: 6 EMD D47
Trucks: Flexicoil
Description: Diesel-Electric (ex BN 6244)
Arrived: 1989
Condition: Complete / restored / operational
Ownership History
1959-1970 – Chicago Burlington & Quincy #504
1970-1982 – Burlington Northern #6244
1982-1983 – Electro-Motive Division, McCook, IL
1983-1989 – Maryland Midland #6244
1989-present – Illinois Railway Museum, Union, IL
Click to return to Internal Combustion Locomotive roster
Click to return to main roster page