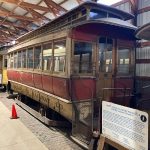 CSL 1930
Chicago City Railway 209
| | |
| --- | --- |
| Description: | Double-end single-truck deck-roof cable trailer replica |
Equipment Information
Chicago City Railway 209 is a replica of a Chicago cable trailer. The Chicago Surface Lines built it during the Great Depression using metal components from an original car. Cable cars are closely associated today with San Francisco but in 1900 Chicago actually had the largest network of cable car lines in the country. "Grip cars," which gripped the moving cable beneath the street, could haul one or more trailers like this one that helped increase their passenger capacity. Electric streetcars replaced the last Chicago cable cars in 1906.
Chicago City Railway 209 Details
Builder: Chicago Surface Lines
Year Built: 1930
Seats: 30
Length: 31ft
Width: 8ft 1in
Height: 10ft 10in
Weight: ??? lbs
Brakes: Hand
Trucks: Pedestal
Description: Double End / Double Truck / Deck Roof / Trailer
Arrived: 1985
Condition: Complete / unrestored / not operational
CCR 209 Ownership History
1930-1947 – Chicago Surface Lines
1947-1985 – Chicago Transit Authority
1985-present – Illinois Railway Museum, Union, IL
Cable Cars
Nowadays we associate the cable car only with San Francisco, but there were cable car installations in thirty different US cities, and Chicago had the largest. The cable car was the first successful technology to replace the horse car (see NCSR 8). A central power station transmitted power to the cars via a steel cable running on pulleys under the street. Each car had a grip mechanism that extended down through a slot over the cable conduit; the operator, or "gripman", could pull a lever to grip onto the cable, and the car would then move along at about 8 MPH.
One of the advantages of the cable car was the almost unlimited power available, so a grip car easily could pull one or more unpowered trailers, such as this one, without loss of speed. But the cable car technology had many drawbacks. The capital expense sunk into constructing the cable system in the streets was immense. Switches, crossings, and even curves required extra engineering costs and made operation more difficult.
The cable could not cross a bridge that opened, so three tunnels had to be dug under the Chicago River to allow cable cars into downtown. And to avoid having cable lines cross each other, the cable cars had to run left-handed on State St. and on Wabash in the middle of the Loop. The Loop, by the way, was originally named after the cable car loops in the middle of the city. But for a short period, roughly 1885 to 1906, Chicago had an extensive cable system, stretching out to Diversey to the north, Pulaski to the west, and 71st to the south. Electric streetcars replaced the last cable cars in the early 1900's when improved electric cars became available. This trailer is a replica that the Chicago Surface Lines built for the Century of Progress exhibition in 1933.
Click to return to Streetcar roster
Click to return to main roster page