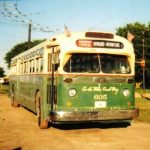 GMC 1950
Chicago Motor Coach 605
| | |
| --- | --- |
| Description: | Diesel Bus Model TDH5103 |
Equipment Information
General Motors Corp. had ownership interests in several different areas which involved transit. They owned Yellow Coach Manufacturing, which produced buses, and which became GM's bus division in 1943. GM also owned bus transit operators in several cities. Its Chicago operation was called Chicago Motor Coach, and from 1917 to 1952 they operated on the City's boulevard system under a franchise from the Chicago Park District. Their service largely represented competition to the much bigger Chicago Surface Lines, which operated streetcars, trolley buses, and motor buses. CSL's poor financial condition led to public ownership under the new Chicago Transit Authority in 1947. The more profitable Chicago Motor Coach was not purchased by CTA until 1952.
CMC ordered 50 buses of the new TDH-5103 model from its parent company, which were delivered in July, 1950. They were equipped with a GM 6-71 engine, producing 200 horsepower, and an Allison V-drive automatic (hydraulic) transmission, and achieved 3½ miles per gallon of fuel. It was initially assigned to CMC's Wilcox Garage, at Adams and Kenton on the West Side. It spent several years at Limits Garage at Clark and Schubert on the North Side, and at Kedzie Garage at Kedzie and Van Buren on the West Side. Finally, in 1965 it moved to Keeler Garage at Diversey and Keeler on the North Side.
Bus 605 was retired from passenger use in June, 1970, and in 1972 became training bus BT-4. Its historic nature was recognized, and it was painted in the early "Boulevard Route" scheme in the late 1970s. It was fitted with cages and vaults for use as a mobile money counting bus. It was finally retired in September, 1986, and went to the Fox River Trolley Museum. IRM acquired it in June, 1996. It is complete and operable.
Builder: General Motors Corp.
Year Built: 1950
Model: TDH5103
Seats: 51
Length: 39ft 4in
Width: 8ft 4in
Height: 9ft 4in
Weight: 19100 lbs
Engine: Detroit 6-71
Transmission: Allison VDr
Description: Diesel Bus
Arrived: 1996
Condition: Complete / unrestored / operational
Ownership History
1950-1952 – Chicago Motor Coach #605
1952-1972 – Chicago Transit Authority #605
1972-???? – Chicago Transit Authority #BT4
????-1986 – Chicago Transit Authority #605
1986-1996 – Fox River Trolley Museum, South Elgin, IL
1996-present – Illinois Railway Museum, Union, IL
Click to return to Motor Bus roster
Click to return to main roster page