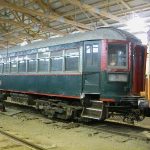 Jewett 1917
Chicago North Shore & Milwaukee 253
| | |
| --- | --- |
| Description: | Double-end arch-roof steel combine |
Equipment Information
North Shore Line 253 is a steel combination passenger-baggage car designed for high-speed service between Chicago and Milwaukee. It retains a largely original interior with stained-and-varnished mahogany walls. It is complete and is being held in storage awaiting restoration.
FUN FACT: The North Shore Line had several combination passenger-baggage cars and they changed the ratio of passenger seating to baggage space on several of them. One car even had all of its seats removed and was used to transport the instruments of the Chicago Symphony Orchestra when the CSO traveled on the North Shore to Ravinia.
COMPARE ME TO: North Shore 251, the museum's other North Shore combine, which was identical to car 253 when new. Car 251 was heavily modernized, though, receiving a flashy "Silverliner" paint job and modernized interior while car 253 remained largely original for its entire 46-year career.
Builder: Jewett Car Company
Year Built: 1917
Seats: 28
Length: 56ft 1in
Width: 8ft 8in
Height: 12ft 6in
Weight: 91000 lbs
Brakes: AMU
Motors: 4 WH 557A5
Control: HLF-28A
Compressor: CP-28
Trucks: Bald 84-30A
Description: Double End / Double Truck / Arch Roof / Steel Combine
Arrived: 1963
Condition: Complete / cosmetically restored / not operational
Ownership History
1917-1963 – Chicago North Shore & Milwaukee
1963-present – Illinois Railway Museum, Union, IL
Click to return to Interurban Car roster
Click to return to main roster page