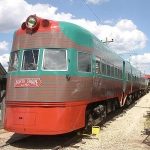 St Louis 1941
Chicago North Shore & Milwaukee 801-802
| | |
| --- | --- |
| Description: | Double-end four-section articulated streamliner |
Equipment Information
Perhaps the most famous piece of traction equipment at the museum is Chicago North Shore & Milwaukee 801-802, the "Electroliner." This four-car high-speed streamlined train ran in express service between Chicago and Milwaukee. It had to operate over the Chicago elevated, through the streets of Milwaukee, and along the high-speed Skokie Valley Route of the North Shore. One of the train's four cars is a cafe-diner where "Electroburgers" and other food and drinks were served. One of only two identical articulated sets built, the "Electroliner" has been completely restored by IRM to its appearance while in service on the North Shore Line.
FUN FACT: When new, the "Electroliner" was tested on the North Shore Line at top speed. It was so fast, it would reach road crossings before the crossing gates had time to come down! In light of this, the railroad had to rewire the motors to slow the train down slightly.
COMPARE ME TO: The Burlington Nebraska Zephyr, the museum's other articulated streamlined train. The Zephyr is longer and wider because it didn't have to fit onto the Chicago elevated; it also features stainless steel construction and has a diesel locomotive that is separate from the rest of the train.
Click here to find out how you can help support the ongoing restoration of the "Electroliner."
Chicago North Shore & Milwaukee 801-802 "Electroliner" Details
Builder: St. Louis Car Company
Year Built: 1941
Seats: 136
Length: 155ft 4in
Width: 9ft 2in
Height: 12ft 7in
Weight: 214000 lbs
Brakes: HSC
Motors: 8 WH 1443B
Control: HB-XMA1
Compressor: 3 DH-25
Trucks: Commonwealth Steel Company
Description: Double End / Five Trucks / Arch Roof / Articulated Streamliner
Arrived: 1982
Condition: Complete / undergoing restoration / operational
Ownership History
1941-1963 – Chicago North Shore & Milwaukee #801-802
1963-1970 – Philadelphia Suburban Transportation #801-802 "Valley Forge"
1970-1982 – Southeastern Pennsylvania Transportation Authority #801-802 "Valley Forge"
1982-present – Illinois Railway Museum, Union, IL