Internal Combustion Locomotives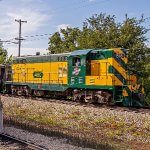 EMD 1948
Chicago & North Western 1518
| | |
| --- | --- |
| Description: | Diesel-Electric GP-7 |
Equipment Information
Chicago & North Western 1518 is the first GP-series (General Purpose) locomotive, or "Geep," ever built. Electro-Motive constructed 1518 at its plant in La Grange, IL, as prototype, or demonstrator, number 922 and later sold it to the C&NW. The locomotive is the forerunner of some 17,000 "Geeps" to be built between 1948 and 2001. It was restored by the C&NW to its 1950s appearance and donated to IRM in 1986.
COMPARE ME WITH: Southern Pacific 1518, the first SD-7 locomotive. The SD-7 was essentially a six-axle version of the GP-7, retaining mostly the same electrical and mechanical equipment as the GP-7. However, the additional two traction motors provided a significant increase in tractive effort and thus made the SD-7 well suited for high tonnage assignments.
Click here to support ongoing restoration work on C&NW 1518.
Chicago & North Western 1518 Details
Builder: Electro Motive Division GM
Year Built: 1948
Model: GP-7
Horsepower: 1500
Length: 55ft 9in
Width: 10ft 3in
Height: 14ft 6in
Weight: 255000 lbs
Brakes: 6BL
Engine: 16-567BC
Motors: 4 EMD D37
Trucks: Blomberg B
Description: Diesel-Electric / First GP Series built
Arrived: 1987
Condition: Complete / undergoing restoration / operational
C&NW 1518 Ownership History
1948-1949 – Electro-Motive Division #922
1949-1950 – Electro-Motive Division #100
1950-1972 – Chicago & North Western #1518
1972-1987 – Chicago & North Western #4311
1987-present – Illinois Railway Museum, Union, IL
Click to return to Internal Combustion Locomotive roster
Click to return to main roster page