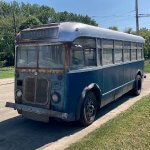 Yellow 1937
Connecticut Company 590
| | |
| --- | --- |
| Description: | Gas Bus Model 716 |
Equipment Information
In New England, city streetcar systems and interurban railways were consolidated under relatively few owners, unlike the multitude of small companies operating these lines in the Midwest. The Connecticut Company, itself owned by the New York, New Haven and Hartford Railroad, acquired most of the electric railways in Connecticut during the first decade of the 20th Century. Decreasing ridership, high infrastructure maintenance costs, and aging equipment caused gradual abandonment of their streetcar systems during the 1920s and 1930s and replacement with buses.
Yellow Coach Manufacturing, a division of General Motors, developed a series of small gasoline-fueled buses starting in 1933, with only 18 to 24 seats, for small cities and suburbs. They were streamlined, with the engine in the front, and only one passenger door. The Connecticut Co. bought almost a hundred of these diminutive buses to replace streetcars in smaller cities; this bus was one of eleven Model 716 units in their fleet. It seats 23 passengers (including one sitting next to the driver, facing backwards) and is powered by a 331-cubic inch inline six-cylinder gasoline engine.
Bus 590 was retired in 1954 and was preserved in GM's historic bus collection. In 1959, GM donated the entire collection to the Museum of Transport in St. Louis. IRM acquired it in 2015. It is complete, although not yet restored to operation.
Builder: Yellow Coach
Year Built: 1937
Model: Model 716
Seats: 23
Length: 25ft 1in
Width: 7ft 1in
Height: 8ft 9in
Weight: 9800 lbs
Engine: GM 331
Transmission: manual
Description: Motor Bus
Arrived: 2015
Condition: Complete / unrestored / not operational
Click to return to Motor Bus roster
Click to return to main roster page