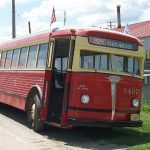 White 1944
Chicago Surface Lines 3407
| | |
| --- | --- |
| Description: | Gas Bus Model 798 |
Equipment Information
During World War II, bus manufacture was restricted by the War Production Board. The Office of Defense Transportation allocated the limited number of buses that were produced, to the cities that needed them the most. The Chicago Surface Lines placed an order for 297 buses with the White Motor Co. of Cleveland, Ohio, and was allocated twenty buses during 1944. The remainder of the order would wait until after the war, and delivery of the final buses took until 1948. All buses produced under ODT allocation were painted gray, to save time and labor. In addition, metal conservation restrictions for the war effort did not permit the use of chrome plating, so the seat frames and stanchions are made of enameled steel. Note the fluted sides; this corrugation stiffened the steel, so that it could be made thinner to conserve metal.
In order to get faster delivery, CSL bought the first portion of the order with three-speed manual transmissions; the last two-thirds had automatic (hydraulic) transmissions. It is equipped with a massive 12-cylinder "pancake" underfloor gasoline-fueled engine, White model 24A, which produces 210 horsepower. The bus was geared for stop-and-go operation, with a maximum speed in top gear of about 45-50 mph.
Bus 3407 was mostly used on the Archer Express route and was based at Archer Garage. It was retired from revenue service earlier than its sister buses, in 1955, and became training bus BT-2. It served in this new role until 1974, when it was put aside as part of a historical fleet. It was refurbished in 1981 and used mostly for ceremonial and public relations purposes. IRM acquired it in 1986. It is complete and operational, but requires engine and interior work before it can join our operating fleet.
Builder: White Motor Company
Year Built: 1944
Model: 798
Seats: 44
Length: 35ft
Width: 8ft
Height: 9ft 5in
Weight: 19315 lbs
Engine: White 24A
Transmission: 56 BAL (Manual)
Description: Gas Bus
Arrived: 1986
Condition: Complete / restored / not operational
Ownership History
1944-1947 – Chicago Surface Lines #3407
1947-1955 – Chicago Transit Authority #3407
1955-1974 – Chicago Transit Authority #BT2
1974-1986 – Chicago Transit Authority, Chicago, IL (historic collection)
1986-present – Illinois Railway Museum, Union, IL
Click to return to Motor Bus roster
Click to return to main roster page