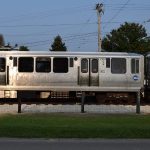 Boeing-Vertol 1977
Chicago Transit Authority 2433
| | |
| --- | --- |
| Description: | Arch-roof stainless steel high-performance |
Equipment Information
Chicago Transit Authority 2433 is a stainless steel-bodied 'L' car built as part of the 2400-series of "high performance" elevated cars. The 2400s were the only rapid transit cars built by Boeing-Vertol, a division of airplane maker Boeing. Car 2433 is permanently coupled to identical car 2434 to form a "married pair" set.
Chicago Transit Authority 2433 Details
Builder: Boeing-Vertol
Year Built: 1977
Seats: 43
Length: 48ft
Width: 9ft 4in
Height: 12ft
Weight: 54300 lbs
Brakes: Electric
Motors: 4 GE 1262A1
Control: GE SCM-2
Trucks: Wegmann
Description: Single End / Double Truck / Arch Roof / Stainless
Arrived: 2014
Condition: Complete / unrestored / operational
Ownership History
1977-2014 – Chicago Transit Authority
2014-present – Illinois Railway Museum, Union, IL
What was Boeing-Vertol?
CTA cars 2433 and 2434 are the only pieces of equipment at IRM that Boeing-Vertol built. Boeing-Vertol started out in 1940 as the Piasecki Helicopter Corporation, one of the early manufacturers of helicopters in the United States. In 1956, following the ouster of founder Frank Piasecki, the company changed its name to Vertol Corporation ("Vertol" being an abbreviation of "Vertical Takeoff or Landing"). Boeing Aircraft purchased the company in 1960 and renamed it Boeing-Vertol.
In the early 1970s, there was a significant decline in military spending following the end of the Vietnam War and Boeing-Vertol entered the rapid transit car business. The company only ended up building two types of production rapid transit vehicles. One was the LRV, or Light Rail Vehicle, which Boeing-Vertol designed and which was infamous for being highly unreliable and generally a failure. The other type, a series of rapid transit cars built for the CTA, owed its design to the CTA itself. These cars, including 2433 and 2434, were quite successful and remained in service for nearly four decades. Boeing-Vertol exited the rapid transit car business in the late 1970s but it remains in business today as the helicopter manufacturing division of Boeing.
Click to return to Rapid Transit Car roster
Click to return to main roster page