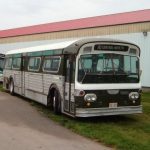 Flxible 1965
Chicago Transit Authority 3177
| | |
| --- | --- |
| Description: | Diesel Bus F2D6V401-1 |
Equipment Information
Fageol-Twin Coach was an early and successful builder of buses, based in Ohio. (See St. Louis 3529, also in the IRM collection, for an early Twin Coach product.) They were purchased by the Flxible Co. in 1952. After GM's radical "New Look" bus design was introduced in 1959, Flxible redesigned their products with a similar appearance. They produced over 13,000 buses of the new design from 1960 to 1978.
The Chicago Transit Authority ordered buses from both GM and Flxible during the 1960s and 1970s, and New Look buses became the vast majority of the fleet during this period. CTA's first order of Diesel-fueled New Looks from Flxible was delivered in 1965, for 240 buses. They seated 50 and were 40 feet long, 102 inches wide, and weighed 21,230 pounds.
As part of a settlement of an anti-trust suit, General Motors agreed to provide bus engines to their competitors without charging any royalty. Thus, bus 3177 has a six-cylinder GM model 6V71N Diesel-fueled engine, rated at 176 horsepower. It uses a Spicer model 184 automatic (hydraulic) transmission, and its top speed is approx. 45-50 mph.
Bus 3177 was assigned to the Kedzie Garage, on the West Side at Kedzie and Van Buren, for most of its life. It moved to the now-closed 52nd St. Garage at 52nd and Cottage Grove on the South Side in 1976. With the arrival of new buses (see CTA 9799, also in IRM's collection) it was put into storage in 1977. Bus 3177 was officially retired in 1978 and added to CTA's Historical Collection, although a few of its sister buses continued in service until 1983. IRM acquired it in 1998, and it is complete and operable.
Builder: Flxible
Year Built: 1965
Model: F2D6V401-1
Seats: 50
Length: 40ft 3in
Width: 8ft 6in
Height: 9ft 10in
Weight: 21230 lbs
Engine: GM 6V71N
Transmission: Spicer 184
Description: Diesel Bus
Arrived: 1998
Condition: Complete / unrestored / operational
Click to return to Motor Bus roster
Click to return to main roster page