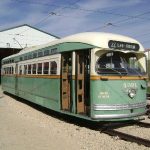 St Louis 1948
Chicago Transit Authority 4391
| | |
| --- | --- |
| Description: | Single-end arch-roof all-electric PCC |
Equipment Information
Chicago Transit Authority 4391 is the last surviving postwar PCC from Chicago. Nicknamed "Green Hornets," the 600 largely identical PCC cars the Chicago Surface Lines ordered after after World War II were intended to modernize the city's more heavily-trafficked streetcar lines while more lightly-traveled lines would be abandoned or replaced by buses. Instead, the newly-created CTA took over the streetcar system and decided to replace all streetcars with buses. Car 4391 was only ten years old when the CTA retired it. It has operated at IRM since the mid-1970s.
FUN FACT: Chicago had the longest and widest PCC cars built for any American streetcar system. Car 4391 is so wide, in fact, that it's not centered over the rails – it is actually offset a couple of inches to the right so that it could pass PCC cars going in the other direction on adjacent tracks. The tracks were too close together for streetcars this wide to pass otherwise.
Chicago Transit Authority 4391 Details
Builder: St. Louis Car Company
Year Built: 1948
Seats: 57
Length: 50ft
Width: 9ft
Height: 10ft 3in
Weight: 38800 lbs
Brakes: All Electric
Motors: 4 GE 1223E1
Control: WH XD473
Trucks: StL B3
Description: Single End / Double Truck / Arch Roof / Two Man / Electric PCC
Arrived: 1973
Condition: Complete / cosmetically restored / operational
CTA 4391 Ownership History
1948-1959 – Chicago Transit Authority
1959-1973 – Electric Railway Historical Society, Downers Grove, IL
1973-present – Illinois Railway Museum, Union, IL
The Famous PCC Streetcar
By the late 1920s, more and more Americans were buying automobiles and using them to get around rather than riding streetcars or interurban cars. At this time the privately-owned street railways were losing riders – and money – to the increase in car ownership.
A consortium of streetcar company managers known as the Electric Railway Presidents' Conference Committee, or ERPCC, formed in 1929. Its goal was to develop a modern, standardized streetcar that would provide a smooth, comfortable, quiet ride that would lead more people to ride the streetcar instead of driving their own cars.
The result was the PCC car, of which CTA 4391 is an example. The PCC car was built entirely out of steel, had modern, sleek lines and utilized modern electrical and mechanical technology to make it faster, quieter and smoother to ride than virtually any other streetcar in existence. It was not only completely modern but its design was robust and tremendously successful: over the years more than 20,000 streetcars would be built worldwide using PCC specifications and technology, with many still in use to this day. The styling of the PCC was so attractive that even bus companies of the time adapted its appearance to their new buses.
Chicago ordered more PCC cars than any other city, 83 cars in 1936 and another 600 of an improved design following World War II. Although the cars were remarkably successful and made riding the streetcar much more attractive, they still could not stave off the effects of the rapid increase in automobile ownership during the 1950s. The CTA decided to eliminate all streetcar lines by the end of the decade. Virtually all of Chicago's modern PCC cars, some of them less than a decade old, went to scrap, with major components going into new 'L' cars. Only two Chicago PCC streetcars survived, both at IRM, and CTA 4391 is the only one still in operation.
Click to return to Streetcar roster
Click to return to main roster page