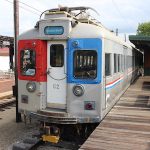 Pullman-Standard 1947
Chicago Transit Authority 52
| | |
| --- | --- |
| Description: | Arch-roof aluminum 3-section articulated PCC |
Equipment Information
Chicago Transit Authority 52 is an articulated, aluminum-bodied three-car PCC type 'L' train. Designed by Chicago Rapid Transit just prior to the advent of the CTA, it was part of the 5000-series before it was renumbered. Only four of these cars were built for Chicago but they saw limited success and in later years were used on the Skokie Swift, now the Yellow Line.
FUN FACT: For the Bicentennial, car 52 was repainted in a bright red, white, and blue livery and given the name "Paul Revere." It was also temporarily given a new number, '75, making it the only CTA car to ever bear a number with an apostrophe.
COMPARE ME WITH: Chicago Transit Authority 6125, an example of the first type of 'L' cars built following the four 5000-series cars. The 6000-series eschewed the articulation of the 5000s but did keep the multi-car concept, using permanently coupled pairs of 'L' cars on standard pairs of trucks.
Builder: St. Louis Car Company
Year Built: 1947
Seats: 96
Length: 88ft 7in
Width: 9ft 4in
Height: 12ft 2in
Weight: 93000 lbs
Brakes: All Electric
Motors: 8 WH 1432LK
Control: XDA1-B1
Trucks: Clark Special
Description: Double End / Four Trucks / Arch Roof / Steel Articulated
ARrived: 1986
Condition: Complete / unrestored / not operational
Ownership History
1947-1947 – Chicago Rapid Transit #5002
1947-1964 – Chicago Transit Authority #5002
1964-1975 – Chicago Transit Authority #52
1975-c1980 – Chicago Transit Authority #'75
c1980-1986 – Chicago Transit Authority #52
1986-present – Illinois Railway Museum, Union, IL
Click to return to Rapid Transit Car roster
Click to return to main roster page