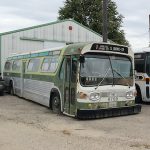 GMC 1977
Chicago Transit Authority 9799
| | |
| --- | --- |
| Description: | Diesel Bus Model T8H-5307A |
Equipment Information
In late 1959, General Motors introduced a new design of bus that would become iconic in North American culture. It represented such a drastic change to the established appearance of transit buses, that they named it "New Look." GM's primary competitor in bus manufacture at the time, the Flxible Corp. of Kent, Ohio, similarly updated their products; see CTA 3177 and 8715, also in IRM's collection, for Flxible "New Looks." Drivers, accustomed to looking out through small windshields, appreciated the bulbous glass front-end of the new model, and quickly nicknamed the GM product the "Fishbowl." The new design saved weight by using the aluminum skin to support the bus's structure.
GM's plant in Pontiac, Michigan, produced most of the New Look buses used in the USA. The final Pontiac-built order, as GM was changing over to produce the RTS model (see Janesville 412, also in IRM's collection), was for 200 buses for Chicago. Bus 9799 was the last bus of this final order, being built in February, 1977. Two Canadian GM plants also produced New Look buses, and production continued there for Canadian and American customers until 1986. In total, more than 44,000 New Look buses rolled off GM production lines.
Bus 9799 was initially housed at the 77th St. Garage and operated on the South Side. By 1981, however, it moved to North Park Garage at Foster and Kedzie Aves. It served the remainder of its life there, working on North Side routes. It was retired in April, 1992, although some of its sister buses ran until 1996, the final operation of New Look buses in Chicago. It was bought by a bus dealer and collector in California, and subsequently went to the Chicagoland Historical Bus Museum. IRM acquired it in 2011. Complete and operable, it awaits structural and air system repairs before entering service.
Builder: GMC
Year Built: 1977
Model: T8H-5307A
Seats: 53
Length: 40ft
Width: 8ft 6in
Weight: 21182 lbs
Engine: GM (Detroit) 8V71
Description: Motor Bus
Arrived: 2011
Condition: Complete / unrestored / not operational
Click to return to Motor Bus roster
Click to return to main roster page