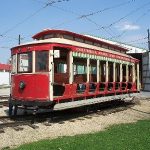 Brill 1914
Cooperativa de Transportes Urbanos y Sub-Urbanos 19
| | |
| --- | --- |
| Description: | Single-end single-truck deck-roof 10-bench open |
Equipment Information
The only single-truck open car at IRM is Cooperativa de Transportes Urbanos y Sub-Urbanos 19, a car from Veracruz, Mexico. Open cars like 19 were extremely popular in the United States in the 1890s and early 1900s but they fell out of favor around World War I because street railways could only use them for half the year. During the winter they just had to store all their open cars. In Mexico, with a milder climate, they used open cars year round and car 19 remained in service in Veracruz into the early 1960s. IRM acquired this car in 2009 and operates it regularly.
FUN FACT: We aren't entirely sure of car 19's history. Brill built 18 open cars for Veracruz in 1914 and numbered them 1-18. What we think is that the Veracruz streetcar shops assembled car 19 from parts of other 1914-built Brill open cars, perhaps wreck-damaged ones. One clue that car 19 was cobbled together: if you look under the seats, you'll notice the seat supports aren't made from factory-made castings but rather from lengths of steel rebar – the stuff used to reinforce concrete!
Cooperativa de Transportes Urbanos y Sub-Urbanos 19 Details
Builder: J.G. Brill Car Company
Year Built: 1914
Seats: 40
Length: 29ft 9in
Width: 9ft
Height: 12ft 4in
Weight: 20000 lbs
Brakes: SME
Motors: 2 WH 92A
Control: K-10
Compressor: DH-16
Trucks: Brill 21E
Description: Single End / Single Truck / Deck Roof / 10-Bench Open
ARrived: 2009
Condition: Complete / unrestored / operational
CTUSU 19 Ownership History
1914-1932 – Compañía de Luz, Fuerza y Tracción de Veracruz
1932-1939 – Cooperativa de Tranviarios y Similares del Puerto de Veracruz
1939-1961 – Cooperativa de Transportes Urbanos y Sub-Urbanos de Veracruz
1961-2006 – Trolleyville USA, North Olmsted, OH
2006-2009 – Lake Shore Electric Railway, Cleveland, OH
2009-present – Illinois Railway Museum, Union, IL
Open Streetcars
This streetcar, car number 19 from Veracruz in central Mexico, is known as an open car or a "breezer." In the early years of electric railways, between 1890 and 1915, open cars like this one were extremely popular across the United States. On hot summer days, people could ride the streetcar to cool down and escape the heat of the city.
As electric railways expanded and interest developed in leisure travel on streetcars, the streetcar companies looked for ways to capitalize on this market. The answer was the Electric Park. Dozens of streetcar companies all over the country built parks at the outer end of one of their streetcar lines for the purpose of encouraging weekend leisure traffic. Early on, the electric parks – so called because electric railway companies developed and owned them – generally consisted of picnic grounds and bandstands. Later, after 1900, many electric parks gained amusement park rides. Largely because of the electric parks, many electric railways had more riders on weekends than on weekdays.
The decline of electric parks in the years prior to World War I coincided with the decline of open streetcars like car 19. The proliferation of amusement parks located closer to the city center reduced interest in the older electric parks further away. Open cars fell out of favor with streetcar companies because they could only be used half of the year; during the winter, open cars were useless in colder climates. All of the open cars used by Chicago area electric lines were gone by the Depression, but this car – used year round in sunny Mexico – remained in service in Veracruz until the 1960s.
There were two electric parks in Chicago that survived as well. Ravinia Park north of the city was built by the Chicago & Milwaukee Electric, later the North Shore Line, and survives today as a popular music venue. Dellwood Park in Lockport, just north of Joliet, originated with the Chicago & Joliet Electric and still exists today as a city park.
Click to return to Streetcar roster
Click to return to main roster page