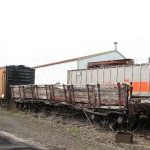 H&B 1913
Chicago & Western Indiana 1185
| | |
| --- | --- |
| Description: | GD Wood Side Dump Gondola |
Equipment Information
Chicago & Western Indiana 1185 is a rare example of a wooden side-dump ballast car. It was designed to carry ballast, fill, or other aggregate and the sides opened so that the car could be emptied to the side of the tracks. Once common on railroads, cars like this were mostly replaced by all-steel ballast cars prior to World War II. This is thought to be the last example of this once-common type of ballast car.
Chicago & Western Indiana 1185 Details
Builder: Haskell & Barker
Year Built: 1913
Length: 40ft
Width: 9ft 11in
Height: 6ft 7in
Weight: 30000 lbs
Brakes: AB
Trucks: Vulcan/Simplex
Description: Wood Side Dump Gondola
Arrived: 1970
Condition: Incomplete / unrestored / not operational
What was Haskell & Barker?
C&WI 1185 is the only piece of equipment at IRM built by the Haskell & Barker Car Company of Michigan City, IN. Haskell & Barker, or H&B, had its origins in the 1850s and from its earliest days specialized in constructing railroad freight cars. By the early 1900s, it was building more than 10,000 cars per year and was one of the largest railroad car building companies in the United States. Following the 1910 death of John Barker, the son of the company's founder, H&B was sold to an investment company. Then, in 1922, the Pullman Company, which was another prolific builder of freight cars and was most famous for its passenger cars, purchased H&B. The 116-acre H&B manufacturing facility became the Pullman Michigan City plant, said to be the largest freight car manufacturing plant in the world. The plant remained in operation until 1971, when it closed for good.
Click to return to Freight Car roster
Click to return to main roster page