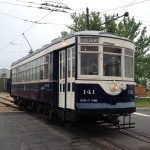 McGuire-Cummings 1924
Chicago & West Towns 141
| | |
| --- | --- |
| Description: | Double-end arch-roof car |
Equipment Information
The only preserved streetcar from the Chicago & West Towns is car 141. The West Towns operated streetcar lines in the near western suburbs of Chicago including a line which famously ran right past the south entrance to Brookfield Zoo. Car 141 was originally built with the capability to operate in short trains with other streetcars of its type but was rebuilt around 1940 without this capability. The car was retired in 1948 and turned into a shed. IRM acquired car 141 from another museum in 1973, and during the 2000s and 2010s IRM volunteers completely restored the car.
FUN FACT: The West Towns had such a marginal electrical distribution system that they chose to heat their streetcars not with electricity but with coal. Car 141 has a coal stove in the middle of the car complete with stovepipe sticking out the roof.
COMPARE ME WITH: Chicago Transit Authority 3142, built to a generally similar design one year earlier. Car 3142 was constructed by a different car builder and has many small differences in hardware, trucks, electrical systems, and door arrangement.
Chicago & West Towns 141 Details
Builder: McGuire-Cummings Mfg. Company
Year Built: 1924
Seats: 44
Length: 47ft
Width: 8ft 4in
Height: 11ft 6in
Weight: 46200 lbs
Brakes: Straight Air
Motors: 4 GE 203L
Control: PC5-CJ129A
Compressor: CP-27
Trucks: McGuire 10B
Description: Double End / Double Truck / Arch Roof / Wood/Steel
Arrived: 1973
Condition: Complete / restored / operational
Ownership History
1924-1948 – Chicago & West Towns
1948-1959 – Privately owned, Downers Grove, IL (shed)
1959-1973 – Electric Railway Historical Society, Downers Grove, IL
1973-present – Illinois Railway Museum, Union, IL
Click to return to Streetcar roster
Click to return to main roster page