Internal Combustion Locomotives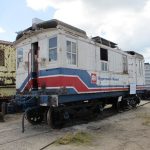 Alco/GE/IR 1926
Delaware Lackawanna & Western 3001
| | |
| --- | --- |
| Description: | Diesel-Electric Boxcab |
Equipment Information
Delaware Lackawanna & Western 3001 is the oldest internal-combustion locomotive at IRM. It is also one of the oldest diesels preserved in the country. It is a box-cab switcher, built for moving freight cars at low speed around the South Brooklyn Terminal yard in New York City. This type of box-cab was the first commercially successful diesel locomotive design in America. The Lackawanna later sold 3001 to Ingersoll-Rand, which had manufactured the locomotive's diesel engine, for use as a plant switcher in Phillipsburg, New Jersey. Ingersoll-Rand retired it in the early 1980s.
FUN FACT: Lackawanna 3001 worked at a railroad yard in Brooklyn, where it moved freight cars on and off of marine barges for transportation across New York Harbor. At least once and possibly twice, this engine went off the pier and sank into the harbor! Nobody was killed and the locomotive was raised and repaired for further service.
Lackawanna 3001 Details
Builder: ALCO/GE/Ingersoll-Rand
Year Built: 1926
Model: 60-Ton
Horsepower: 300
Length: 34ft 10in
Width: 10ft
Height: 14ft 4in
Weight: 120000 lbs
Brakes: 14EL
Engine: Ingersoll-Rand
Motors: 4 GE HM840G
Trucks: ALCO
Description: Diesel-Electric Box Cab
Arrived: 1984
Condition: Complete / undergoing restoration / not operational
Read more about the history of this engine in Rail & Wire #260
Photo gallery
Lackawanna 3001 Ownership History
1926-1951 – Delaware Lackawanna & Western #3001
1951-1984 – Ingersoll-Rand #91
1984-present – Illinois Railway Museum, Union, IL
Early Diesel Locomotives
Lackawanna 3001 is one of the oldest diesel-electric locomotives preserved in the United States. It is also an example of the very first successful application of diesel engine technology to a full-size locomotive. This locomotive, and a handful of others like it, heralded the beginning of the end of the steam locomotive when they arrived on the scene in the 1920s.
At that time, every major railroad in the country used steam locomotives. Internal-combustion technology had been developing slowly since the advent of gasoline engines in the 1870s and diesel engines in the 1890s, but problems with mechanical transmissions and the limited power of early internal-combustion engines made their use on railroad locomotives generally impractical.
After World War I, however, this started to change. The concept of a diesel-electric locomotive, where the diesel engine turns an electrical generator to power electric motors geared to the wheels, was proven by General Electric (GE) with a series of prototype locomotives. GE also developed an effective system of controlling diesel-electric locomotives around 1920. Advancements in internal-combustion technology soon led to more powerful engines, including a 300-horsepower diesel engine developed by Ingersoll-Rand (IR) between 1921 and 1923. And a need arose when in 1923 New York City banned the use of steam engines within city limits, creating a new market for internal-combustion locomotives.
The result was the Alco-GE-IR boxcab, of which Lackawanna 3001 is an example. Thirty-three were built between 1925 and 1928. Their reliability and utility soon made it clear that diesel locomotives could economically and effectively take the place of steam locomotives. It would be three decades before the diesel vanquished steam from the nation's mainline railroads, something that few would have predicted in 1925, but the real beginning of that transformation was with the 1920s boxcabs.
Delaware Lackawanna & Western 3001 replaced a steam engine at that railroad's South Brooklyn Terminal in 1926 and ran there until 1951. In 1951, the Lackawanna sold it to IR and it served until 1977 as the plant switcher at the facility in New Jersey that had built its diesel engine.
Click to return to Internal Combustion Locomotive roster
Click to return to main roster page