Railroad Passenger and Baggage Cars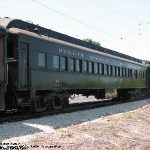 AC&F 1911
Duluth Missabe & Iron Range 84
| | |
| --- | --- |
| Description: | Steel Day Coach |
Equipment Information
Duluth Missabe & Iron Range 84 is an all-steel coach. It was built to carry passengers over the DM&IR system in northeastern Minnesota. It is a "day coach" which denotes its configuration for longer-distance transportation. The car has more comfortable seating than a short-haul commuter coach. After the DM&IR retired the car, it saw use on the Marquette & Huron Mountain tourist railroad in Michigan's Upper Peninsula. IRM purchased the car from the M&HM in 1985 and restored it to its original appearance.
DM&IR 84 Details
Builder: American Car & Foundry
Year Built: 1911
Seats: 84
Length: 80ft
Width: 10ft 6in
Height: 14ft 4in
Weight: 130000 lbs
Brakes: UC
Trucks: Pullman 2410
Description: Passenger
Arrived: 1985
Condition: Complete / restored / operational
What was the Duluth Missabe & Iron Range Railway?
Duluth Missabe & Iron Range 84 is the only piece of equipment preserved at IRM from the Duluth Missabe & Iron Range, or DM&IR. The DM&IR was formed in 1938 by merging the Duluth & Iron Range and the Duluth Missabe & Northern. Both of these railroads operated almost entirely within the state of Minnesota, connecting the iron ore mines of northeastern Minnesota with the Great Lakes docks around Duluth. United States Steel (USS) gained control of the two railroads in 1901, which gave corporation control over the transportation of the ore necessary for steel production. The DM&IR remained associated with USS until the railroad's sale to a holding company in 2001.
Passenger service on the DM&IR ended in 1957 and by the mid-1960s business was declining due to the exhaustion of high-grade iron ore deposits. But new tax incentives made it economical to mine taconite – essentially low-grade iron ore – and so taconite mining began in earnest in 1966, with the freighter SS Edmund Fitzgerald receiving the first trainloads from the D&MIR. In the late 20th century the railroad mostly hauled taconite out of the Minnesota iron range to the docks in Duluth. It merged into the Wisconsin Central in 2011 and became part of the Canadian National system.
Click to return to Passenger Car roster
Click to return to main roster page