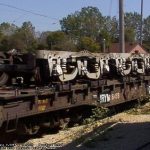 Magor 1953
Department of Defense (DODX) 38488
| | |
| --- | --- |
| Description: | FM Heavy Duty Flat Car |
Equipment Information
DODX 38488 is a heavy-duty railroad flat car built for hauling unusually heavy loads. It was designed to carry two M48 or M60 Patton tanks. It has a heavy steel frame and is fitted with three-axle trucks for better weight distribution.
FUN FACT: You may notice that this car, and a few others at IRM, are stenciled "DO NOT HUMP." So what does that mean? It involves hump yards, a type of railroad yard where a track goes over a low hill (or hump) and then on the downhill side it fans out into several different tracks. Freight cars are shoved over the hump and then, using remotely controlled switches to control where they go, they roll down the hill and into the correct tracks on their own and in quick succession. Older freight cars like this one are too fragile for this rough, gravity-controlled sorting, and are barred from being "humped."
DODX 38488 Details
Builder: Magor
Year built: 1953
Length: 59ft 3in
Width: 10ft 6in
Height: 4ft 4in
Weight: 87300
Brakes: ??
Trucks: 6-Wheel
Description: Heavy-Duty Flat Car
Arrived: 2001
Condition: Complete / unrestored / operational
What was the Magor Car Corporation?
This is one of only two cars at IRM that the Magor Car Corporation of Clifton, New Jersey built. Magor was originally founded in 1899 as Wonham-Magor Engineering. The company started out specializing in constructing railroad cars for industrial purposes. Dump cars, logging cars, and flat cars were common products. The company also established a robust export business and constructed freight and non-revenue cars for many overseas railroads. During World War I and World War II, Magor built a large number of freight cars for the U.S. government. Over time, the company expanded to construct a variety of freight cars, including heavy-duty flat cars like DODX 38488 and aluminum hopper cars built in the 1950s and 1960s. Magor was taken over by a company called Fruehauf and it shut down permanently in 1973.
Click to return to Freight Car roster
Click to return to main roster page