Railroad Passenger and Baggage Cars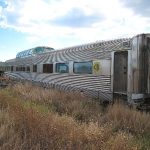 Budd 1948
Denver & Rio Grande Western 1108
| | |
| --- | --- |
| Description: | Stainless Dome-Coach |
Equipment Information
Rio Grande 1108 "Silver Pony" is the only example of the iconic "dome car" preserved at IRM. Dome cars were streamlined cars built after World War II with a glass-topped dome fitted to the car roof. Passengers seated in the dome had a 360-degree view of scenery along the railroad. The "Silver Pony" had all coach seating (some dome cars had sleeping compartments or lounge areas) and saw use on the California Zephyr, a famous train inaugurated in 1949 that ran from Chicago to San Francisco. This is the only Rio Grande car preserved at IRM.
Click here to help support the restoration of "Silver Pony"
D&RGW 1108 Details
Builder: Budd Mfg. Company
Year built: 1948
Seats: 93
Length: 85ft
Width: 10ft 5in
Height: 15ft 10in
Weight: 154240 lbs
Brakes: HSC
Trucks: GSC
Description: Dome-Coach Silver Pony / Stainless Steel / Streamlined
Arrived: 2011
Condition: Complete / undergoing restoration / not operational
What was the Denver & Rio Grande Western?
The Denver & Rio Grande Western, also known as the D&RGW or simply the Rio Grande, was an important railroad link through the Rocky Mountains in the American west. It was created as the Denver & Rio Grande in 1870, conceived as a north-south narrow-gauge link between Denver, CO and El Paso, TX. Competition with the east-west Atchison Topeka & Santa Fe nixed the line's plans to head south to the Mexican border, but the D&RG instead built westward from Pueblo, CO via the Royal Gorge and the 10,200-foot elevation Marshall Pass. In the meantime a narrow gauge line from Salt Lake City, UT, to Grand Junction, CO, had been assembled under the D&RGW name, and in 1883 the D&RG connected with that line, creating a route through the Rockies from Denver to Salt Lake City. During the late 1800s the D&RG and D&RGW built a network of lines throughout southern and western Colorado to serve mines and connect Denver to cities west of the Rockies. In the 1890s the D&RGW converted much – but not all – of its network to standard gauge.
In the 1930s the DR&GW completed a direct line west from Denver and soon gained control of the route through the famous Moffat Tunnel. During this period it joined with the Chicago Burlington & Quincy to the east and the Western Pacific to the west to host the Chicago-to-San Francisco California Zephyr. Each of the three railroads contributed cars to the famous train, with the Rio Grande's contribution including car 1108, the "Silver Pony." The D&RGW remained staunchly independent and declined to join Amtrak when the government-funded passenger railroad was created in 1971. The Rio Grande Zephyr, which the railroad operated from Denver to Salt Lake City until 1983, was one of the last privately operated long-distance passenger trains. The Rio Grande combined with the Southern Pacific in 1988 and the Union Pacific Railroad took over the combined system in 1996.
Click to return to Passenger Car roster
Click to return to main roster page