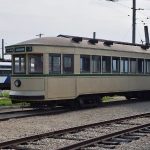 St Louis 1930
Detroit Street Railway 3865
| | |
| --- | --- |
| Description: | Single-end arch-roof Peter Witt |
Equipment Information
The only "Peter Witt" type streetcar at IRM is this car, Detroit Street Railway 3865. The "Peter Witt" was developed to speed loading and unloading. Passengers entered through doors at the front of the car and exited through doors at the middle, with the conductor seated between them. IRM acquired car 3865 in 1998 from the Henry Ford Museum.
FUN FACT: The Henry Ford Museum acquired car 3865 in 1954 from a local historic group. To get the streetcar, they traded several items including four cheese presses, two parlor organs, two spinning wheels, a barber chair, and a wooden cigar store Indian.
COMPARE ME WITH: Chicago Surface Lines 4021, which was built only five years later. The Chicago car, a PCC streamliner, has a substantially more modern appearance and features multiple technological advancements produced during the PCC development program.
Detroit Street Railway 3865 Details
Builder: St. Louis Car Company
Year Built: 1930
Seats: 52
Length: 48ft 6in
Width: 8ft 6in
Height: 10ft 2in
Weight: 37200 lbs
Brakes: SME
Motors: 4 GE 265
Control: K35
Compressor: CP-27
Trucks: StL M66
Description: Single End / Double Truck / Arch Roof / Safety / Peter Witt
Arrived: 1998
Condition: Incomplete / cosmetically restored / not operational
DSR 3865 Ownership History
1931-1954 – Detroit Street Railway
1954-1998 – Henry Ford Museum, Dearborn, MI
1998-present – Illinois Railway Museum, Union, IL
Click to return to Streetcar roster
Click to return to main roster page