Internal Combustion Locomotives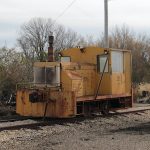 | | |
| --- | --- |
| Description: | Diesel-TC-Mech JDT25 |
Equipment Information
This DuPont locomotive without a number is a small switching locomotive designed for moving one or two freight cars at a time around an industrial facility. Unlike most of the diesel locomotives at IRM, it does not have electric motors powering the wheels but rather has a mechanical clutch like a truck or automobile.
DuPont Locomotive Details
Builder: Plymouth
Year Built: 1959
Model: JDT25
Length: 19ft 1in
Width: 8ft 9in
Height: 10ft 7in
Weight: 50000 lbs
Engine: Detroit 6-71
Trucks: 0-4-0
Description: Diesel-TC-Mech.
Arrived: 2007
Condition: Complete / unrestored / operational
Ownership History
1959-1963 – Bath & Hammondsport #D2
?-2007 – DuPont
2007-present – Illinois Railway Museum, Union, IL
What was the Plymouth Locomotive Works?
This diminutive engine is the only one at IRM built by Plymouth. Plymouth was one of the most prolific builders of small internal combustion locomotives in America. Located in Plymouth, Ohio, the company – whose corporate name at the time was actually the Fate-Root-Heath Company – built its first gas-mechanical locomotive in 1910. It began constructing diesel-powered locomotives in the late 1920s. It built a handful of larger switchers, but almost all of its locomotives were small ones like this one and were built for industrial or mining operations. Plymouth remained in business until it was sold to Ohio Locomotive Crane in 1997.
Click to return to Internal Combustion Locomotive roster
Click to return to main roster page