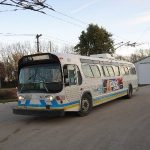 BBC 1982
Edmonton Transit System 181
Equipment Information
Buoyed by enthusiasm from Toronto's innovative production of a "nearly new" fleet of trolley buses in the early 1970s, several suppliers began offering completely new, modern vehicles as the 1970s ended. (See Toronto Transit Commission 9339 in our collection for more information.) One thing that these suppliers had in common was that they were not the traditional American streetcar and trolley bus builders of the past. European manufacturers in particular were strongly represented.
Edmonton, Alberta, Canada, determined in 1979 that it was time to replace its older fleet entirely, after buying a small order of Flyer-built trolley buses in 1974. They received bids for the 100-vehicle order from five builders with numerous control packages. The winner was Brown Boveri Canada, the local subsidiary of the large Swiss electrical manufacturer. Brown Boveri had much experience building controls for trolley buses all over Western Europe, but was relatively unknown in North America. BBC proposed to obtain model 5307 body shells from General Motors (often called a "fishbowl" body because of the bulbous windshields) and add its latest electronic "chopper" control package. The first bus entered service on November 10, 1981, and the new fleet was initially quite successful.
Changing transit policies in Edmonton led to much of the new fleet sitting idle for long periods. 40 of the surplus vehicles were leased to Toronto from 1990-93, including our bus, where it was numbered 9181 and operated until the end of Toronto's trolley bus system on July 19, 1993. As the buses aged in the 2000s, they became less reliable, and parts were hard to find. Edmonton abandoned its trolley bus system on May 2, 2009, and IRM acquired bus 181 in October. It is complete and operates occasionally on our demonstration line.
Builder: BBC
Year Built: 1982
Model: HR150G
Seats: 42
Length: 39ft 11in
Width: 8ft 6in
Height: 11ft 1in
Weight: 21400 lbs
Motors: 1 BBC 4ELO2030L
Control: BBC Reverse-Conducting Thyristor Chopper
Compressor: Atlas-Copco LE6
Description: Trolley Coach / ex-TTC 9181
Arrived: 2009
Condition: Complete / unrestored / operational
Click to return to Trolley Bus roster
Click to return to main roster page