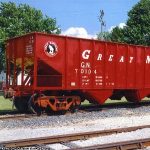 Pullman-Standard 1957
Great Northern 70104
| | |
| --- | --- |
| Description: | HT Hopper 3 Pocket |
Equipment Information
Great Northern 70104 is an all-steel hopper car built for hauling coal and other aggregate. It was built in the Pullman-Standard plant in Butler, Pennsylvania, which had originally been the site of Standard Steel before that company merged with Pullman. The car was later sold to the Wisconsin & Calumet Railroad.
FUN FACT: The antelope or mountain goat pictured in the circular Great Northern emblem on the side of car 70104 actually has a name: Rocky the Goat. Rocky was something of a mascot for the GN from 1921 until the railroad became part of the Burlington Northern in 1970.
COMPARE ME WITH: CB&Q 220100, a ballast car which looks outwardly similar to GN 70104. However the CB&Q car has its dump doors set to dump its contents to the side of the track, which was typical of ballast distribution. The GN car has doors set to dump the car's contents straight down, which was typical of cars that carried coal.
Builder: Pullman-Standard
Year Built: 1957
Length: 46ft 6in
Width: 10ft 5in
Height: 10ft 8in
Weight: 51300 lbs
Brakes: AB
Trucks: Barber S2RB
Description: 3 Bay Hopper (ex Wisconsin & Calumet 7010) Type PS-3
Arrived: 1993
Condition: Complete / restored / operational
Click to return to Freight Car roster
Click to return to main roster page