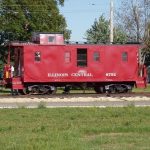 Illinois Central 1940
Illinois Central 9792
| | |
| --- | --- |
| Description: | NE Steel Cupola Caboose |
Equipment Information
IC 9792 is a standard railroad caboose designed for general freight service over the IC system. It has a cupola on the roof, offset towards one end, to provide the conductor better visibility over his train. The Illinois Central built 9792 at its shops in downstate Centralia, Illinois. It also has an unusual side door located in the middle of each side, a feature unique to the IC's homebuilt cabooses. Between 1956 and 1960, the Atomic Energy Commission leased 9792 and one other IC caboose. The Illinois Central Gulf retired 9792 from regular mainline service in 1973 and made it available to a group of the railroad's employees who used it for the next 10 years as part of a "Santa Claus train" in central Illinois. It was sold to one of these ICG employees in 1983 and IRM purchased it two years later.
Illinois Central 9792 Details
Builder: Illinois Central
Year Built: 1940
Length: 36ft 7in
Width: 10ft 6in
Height: 15ft 2in
Weight: ??? lbs
Brakes: AB
Trucks: Scullin
Description: Steel Cupola Side Door Caboose
Arrived: 1985
Condition: Complete / restored / not operational
Illinois Central 9792 Ownership History
1940-1972 – Illinois Central #9792
1972-1983 – Illinois Central Gulf #9792
1983-1985 – Privately owned, Gilman, IL
1985-present – Illinois Railway Museum, Union, IL
Cabooses
Cabooses were an essential part of freight trains until recently, when modern technology made them obsolete. IRM has many examples of different types, and this one is typical of steel cars. Cabooses were not always painted red, but that seemed to be the most popular color. The conductor on a passenger train could always find a place to sit, fill out his paperwork, and keep an eye out for anything that might go wrong while the train was in motion, but on a freight train a special car was needed.
Cabooses date back to the early days of freight trains. The cupola provides a vantage point for watching the train, and in particular looking for "hot boxes". If one of the bearings on any of the freight cars started to run hot, it would start to smoke. As long as the conductor noticed it and brought the train to a stop, the hot box could be easily fixed by adding more oil and making any needed adjustments. If the train weren't stopped, on the other hand, the bearing could overheat, the axle could fail and cause a disastrous derailment.
Freight trains often need to stop at sidings and switch cars in and out, and so the conductor and a brakeman or two would ride the caboose where they would be conveniently placed to throw switches and uncouple cars at the rear of the train. Many cabooses were equipped with bunks where the crew could sleep if overnight accommodations were unavailable. Most were also equipped with stoves, and crews could provide themselves with coffee and food.
The quality of caboose food varied widely, depending on who was in charge. Sometimes all you would get would be coffee that looked and tasted like oily sludge. In other cases, the crew might put in the effort to eat well. For instance, they might keep a gun or two in the caboose for shooting wild turkeys or other game. The train might be waiting in the siding for long periods waiting for other trains to go by, so you might as well go hunting! All railroad cars nowadays have roller bearings, so hotboxes are a thing of the past. With radio communications, there is little need for the extra car and its crew, so the railroads phased out cabooses in the 1990's. The only thing at the end of a train is a small box with a flashing red light and some sensors to report the pressure in the brake pipe. But our Museum has several cabooses which can be used for visitors to ride in, so if there's a caboose train running today, climb aboard for a trip!
Click to return to Freight Car roster
Click to return to main roster page