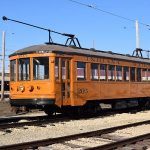 Kuhlman 1927
Indiana Railroad 205
| | |
| --- | --- |
| Description: | Double-end arch-roof suburban car |
Equipment Information
Indiana Railroad 205 is a suburban car that originally ran between Louisville, Kentucky and Jeffersonville, Indiana on the Interstate Public Service system. When that operation ended in the early 1930s, the Indiana Railroad rebuilt the car for one-man operation and moved it to Terre Haute, Indiana for use on the streetcar system there. In 1940 it was sold to Portland, Oregon where it remained in service until 1958. The car was acquired by IRM in badly deteriorated condition in 1993 and has since been cosmetically restored by museum volunteers.
Indiana Railroad 205 Details
Builder: Kuhlman Car Company
Year Built: 1927
Seats: 52
Length: 45ft 6in
Width: 8ft 6in
Height: 11ft 1in
Weight: 37500 lbs
Brakes: SME
Motors: 4 GE 247
Control: HL-15B14
Compressor: DH-16
Trucks: Brill 177E-1X
Description: Double End / Double Truck / Arch Roof / Safety
Arrived: 1993
Condition: Complete / cosmetically restored / not operational
IRR 205 Ownership History
1927-1930 – Interstate Public Service #266
1930-1936 – Indiana Railroad #266
1936-1940 – Indiana Railroad #205
1940-1944 – Portland Electric Power #4003
1944-1959 – Portland Traction #4003
1959-1989 – Privately owned, Snoqualmie, WA
1989-1993 – Yakima Electric Railway Museum, Yakima, WA
1993-present – Illinois Railway Museum, Union, IL
How the Trains Come to IRM
The Illinois Railway Museum is home to over 500 pieces of historic railway and transit equipment, more than any other railway museum in the country – or possibly even in the world. But how did it all get here? Where did all of the trains come from?
The answer is that they came from many different sources. Many of the trains at IRM, especially those that arrived during the museum's early years in the 1950s and 1960s, came directly from the railroad when they were retired from active use. IRM bought most of its streetcars, interurbans and "L" cars for the price of scrap. The same is also true of most of the museum's passenger cars, freight cars and diesel locomotives. Some of these pieces of equipment were donated outright by the railroad, or purchased by a museum supporter and then donated to IRM.
Another source of equipment has been acquiring equipment from non-rail-related people or companies following adaptive reuse. Many of the electric cars, and even some of the museum's freight cars and passenger cars, were turned into sheds, houses or other types of structures after they were retired. Years later IRM is able to purchase these historic railway cars for preservation and, hopefully, eventual restoration to their original appearance. Unlike diesels or freight cars, these cars cannot move to the museum on their own wheels down the railroad. Museum volunteers must them load onto a flatbed truck and bring them to the museum over the road, an expensive but increasingly common method of transporting historic railway equipment. Yet another source of equipment is other museums. IRM has rescued dozens of pieces of railway equipment from other museums that had either gone defunct or were unable to care for them.
This car, Indiana Railroad 205, is one example. In 1993 its owner, a trolley museum in Washington state, was about to scrap the car when IRM stepped in. Museum volunteers loaded car 205 onto a flatbed and then trucked it over 2,000 miles to bring it to Union for preservation and a new lease on life.
Click to return to Streetcar roster
Click to return to main roster page