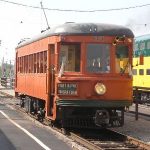 Pullman 1931
Indiana Railroad 65
| | |
| --- | --- |
| Description: | Single-end arch-roof lightweight high-speed |
Equipment Information
Indiana Railroad 65 was the first piece of equipment ever acquired by IRM, becoming the museum's "mother car" when it was acquired for preservation in 1953. When it was built in 1931 it was among the most modern interurban cars in the world, a lightweight coach designed for high-speed operation across the Indiana Railroad interurban network. Car 65 was one of the last interurban cars in use when IRR closed out operations in 1941. It has been completely restored to its appearance while in service in Indiana in the 1930s.
FUN FACT: Car 65 became the museum's first car in 1953 but it was actually saved from scrapping twice – and by the same man. When the Indiana Railroad quit in 1941, Howard Odinius tried to raise the money to save car 65 for posterity but couldn't find enough support. So instead he talked an interurban line in Iowa into buying the car. Twelve years later when that railroad ended service and car 65 was endangered again, Odinius had another go at saving car 65. This time, he ended up founding IRM.
COMPARE ME TO: Chicago North Shore & Milwaukee 757, a heavy interurban car built just a year earlier. The North Shore car, built to a basic design 15 years old, is much heavier than car 65 and requires a two-man crew, making it more expensive to operate.
Builder: Pullman/Pullman-Standard
Year Built: 1931
Seats: 40
Length: 46ft
Width: 8ft 9in
Height: 11ft 2in
Weight: 52200 lbs
Brakes: SME
Motors: 4 GE 706B1
Control: HL-15E12
Compressor: DH-16
Trucks: General Steel Casting
Description: Single End / Double Truck / Arch Roof / Lightweight
Arrived: 1953
Condition: Complete / restored / operational
Ownership History
1931-1941 – Indiana Railroad
1941-1953 – Cedar Rapids & Iowa City #120
1953-present – Illinois Railway Museum, Union, IL