Internal Combustion Locomotives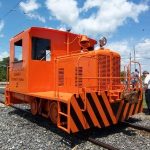 Whitcomb 1951
Joy Manufacturing 2
| | |
| --- | --- |
| Description: | Diesel-TC-Mech 12DM38 |
Equipment Information
Joy Manufacturing 2 is a small switching locomotive designed for moving one or two freight cars at a time around Joy's manufacturing facility in Michigan City, Indiana. Unlike most of the diesel locomotives at IRM, it does not have electric motors powering the wheels but rather has a mechanical clutch like a truck or automobile. It is the only engine at IRM built by the Whitcomb Locomotive Company of Rochelle, IL.
Joy Manufacturing 2 Details
Builder: Whitcomb
Year Built: 1951
Model: 12DM38
Horsepower: 130
Length: 16ft 10in
Width: 9ft 6in
Height: 9ft 10in
Weight: 24000 lbs
Brakes: SA2 Independent
Engine: Hercules DRXC
Trucks: 0-4-0
Description: Diesel-TC-Mech.
Arrived: 1996
Condition: Complete / restored / not operational
What was the Whitcomb Locomotive Company?
Whitcomb started out in 1878 as a Chicago company that specialized in pneumatic mining equipment and knitting machinery. Around 1906, the company built one of the first gasoline-powered mining locomotives ever developed. Soon thereafter it built a new plant in Rochelle, IL, to construct mining locomotives. During World War I the company also built a large number of armored trench locomotives. Whitcomb soon expanded into building standard-gauge gas- and diesel-powered locomotives, including large diesel-electric switchers.
The Baldwin Locomotive Works took over Whitcomb in 1931 but continued to construct diesel locomotives in Rochelle through World War II. In 1952, not long after the construction of Joy Manufacturing 2, operations at the Rochelle plant ended. Locomotive construction was transferred to the Baldwin plant near Philadelphia, PA, and the Whitcomb name stopped being used shortly thereafter.
Click to return to Internal Combustion Locomotive roster
Click to return to main roster page