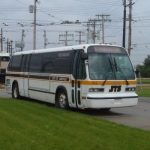 GMC 1979
Janesville Transit System 412
| | |
| --- | --- |
| Description: | Diesel Bus Model RTS II |
Equipment Information
Along with its involvement in light rail vehicle and subway car development, the federal Department of Transportation sponsored two state-of-the-art bus design projects during the 1970s, called Transbus and ADB (Advanced Design Bus). The intent was to spur a concentrated effort into improving and updating transit buses' design; among other things, the new buses were to be "attractive, roomy, and comfortable," and would be easier for elderly and disabled passengers to use. In return, cities purchasing the new buses would be eligible for federal subsidies toward their cost.
Two companies completed bus designs that were deemed to have met the required standards: the Grumman/Flxible 870, and the General Motors Rapid Transit Series (RTS). The GM product was actually an evolution of their own experimental bus design, called RTX, and dating from 1968.
The RTS model introduced several innovative improvements. The comfortable, contoured seats were cantilevered from the wall, making the floor more open and easier to clean. A "ribbon of glass" frameless window design gave passengers an excellent view, as did the large curved windshields for the driver. The air suspension could "kneel" to bring the first step closer to the ground when boarding passengers with limited mobility. Overall, the design was a success, with production from 1977 to 2003, continuing under a new company after GM sold off its bus-building division in 1987.
Operating for its entire service life in nearby Janesville, Wisconsin, bus 412 is driven by a Detroit Diesel model 6V71N engine producing 228 horsepower, and has an Allison V730 automatic transmission. It was modified very little over the years and is quite close to its as-built, 1979 configuration; IRM acquired it when it was retired in 2002. It is complete and operates occasionally here at IRM.
Builder: GM
Year Built: 1979
Model: T7W-603
Seats: 39
Length: 34ft 11in
Width: 8ft 2in
Height: 9ft 8in
Weight: 23130 lbs
Engine: GM (Detroit) 6V71N
Transmission: Allison V730
Description: Motor Bus
Arrived: 2002
Condition: Complete / unrestored / operational
Ownership History
1979-2002 – Janesville Transit System
2002-present – Illinois Railway Museum, Union, IL
Click to return to Motor Bus roster
Click to return to main roster page