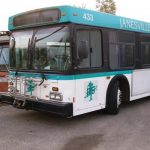 New Flyer 2001
Janesville Transit System 433
| | |
| --- | --- |
| Description: | Diesel Bus Model D35LF |
Equipment Information
The most significant bottleneck in boarding and alighting from traditional high-floor buses has always been the steps just inside the entrance and exit doors. Wheelchair users and others with limited mobility who can't climb the steps are unable to ride the bus if it is not equipped with a wheelchair lift, a complex mechanical device which adds to the cost of the vehicle. Both problems could be solved if the floor could be made low enough to not need a step after boarding, but with much of the equipment on a transit bus below the floor, careful design is needed.
The first successful North American low-floor bus design was the New Flyer LF series, which entered production in 1991. It was based on a Dutch design from the mid-1980s. It has a simple flip-down wheelchair ramp and can "kneel," or lower the suspension, to bring the entrance even lower. The trade-off of the lower floor is reduced seating capacity, mainly due to the larger protrusion of the wheelwells into the interior space. It also has a high floor behind the rear door, accessed by steps, to provide room for the drivetrain. The LF series was available in 30, 35, 40, and 60 foot lengths, and sold well to many transit operators. In part because of the Americans with Disabilities Act, the low-floor bus market quickly overtook high-floor sales, and the industry had almost completely changed over to low-floor production by the mid-2000s.
Janesville (Wisconsin) Transit System purchased 17 of the D35LF model between 2001 and 2006 to replace older high-floor buses like bus 412, which is also in IRM's collection. Bus 433 is equipped with an 8.3 liter Cummins ISC diesel engine and a Voith four-speed automatic transmission, and ran until spring 2020. It was donated by JTS to IRM in October 2020, and is complete and operational.
Builder: New Flyer
Year Built: 2001
Model: D35LF
Seats: 29
Length: 35ft 10in
Width: 8ft 6in
Height: 9ft 3in
Weight: 25400 lbs
Engine: Cummins ISC
Transmission: Voith D864.3E
Description: Motor Bus
Arrived: 2020
Condition: Complete / unrestored / operational
Ownership History
2001-2020 – Janesville Transit System
2020-present – Illinois Railway Museum, Union, IL
Click to return to Motor Bus roster
Click to return to main roster page