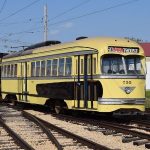 St Louis 1946
Kansas City Public Service 755
| | |
| --- | --- |
| Description: | Single-end arch-roof all-electric PCC |
Equipment Information
Kansas City Public Service 755 is the only streetcar from that city preserved at IRM. It is a PCC streamliner but, like many examples of this supposedly off-the-shelf common design, it has some notable features unique to Kansas City. Most unusual are its windows; it lacks the small upper "standee windows" of most postwar PCC cars and instead has blue glass shaded glass panes. The car was sold to Philadelphia after streetcar service in Kansas City ended and was acquired by IRM in 1985. It is the subject of an ongoing restoration project to return it to operation.
FUN FACT: The blue glass windows in car 755 were long gone when the car came to IRM, but originals from a different Kansas City PCC were recovered from a small town in Missouri where they had been put to use as the roof in a small greenhouse.
COMPARE ME TO: New Jersey Transit 4, a PCC car also built in 1946 but which has more common "standee windows" instead of the taller windows that were unique to Kansas City.
Kansas City Public Service 755 Details
Builder: St. Louis Car Company
Year Built: 1946
Seats: 51
Length: 46ft 5in
Width: 8ft 4in
Height: 10ft 3in
Weight: 37800 lbs
Brakes: All Electric
Motors: 4 WH 1432J
Control: XMA352
Trucks: Clark B2
Description: Single End / Double Truck / Arch Roof / One Man / Electric PCC
Arrived: 1986
Condition: Complete / undergoing restoration / not operational
KCPS 755 Ownership History
1946-1954 – Kansas City Public Service
1954-1968 – Philadelphia Transportation Company #2267
1968-1986 – Southeastern Pennsylvania Transportation Authority #2267
1986-present – Illinois Railway Museum, Union, IL
Click to return to Streetcar roster
Click to return to main roster page