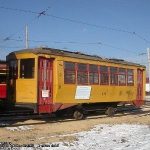 Cincinnati 1925
Knoxville Power & Light 419
| | |
| --- | --- |
| Description: | Double-end single-truck arch-roof curve-side car |
Equipment Information
Knoxville Power & Light 419 is a "Cincinnati curve-sider," a type of streetcar built with curved sides to maintain strength while reducing weight, a design patented by the Cincinnati Car Company. It's an unusual single-truck (four-wheel) version of the type and has the dubious distinction of being the only streetcar at IRM that was subject to Jim Crow segregation laws while it was in service. It was used as a house after retirement. Its body is in storage awaiting restoration.
FUN FACT: Knoxville was the only city in the country where every streetcar was fitted with a mail slot. This practice dated to 1913, when the local postmaster decided to try making the city's streetcars roving mailboxes. Any person could walk up to a (hopefully stopped) streetcar and drop a letter into the side of the car. Car 419 still has its original exterior mail slots built into its sides.
COMPARE ME TO: Illinois Terminal 170, which was built for very similar service but lacks the eye-catching curved sides of car 419. Car 170 was a Birney, a more utilitarian and much more common design of single-truck streetcar.
Knoxville Power & Light 419 Details
Builder: Cincinnati Car Company
Year Built: 1925
Seats: 30
Length: 29ft 6in
Width: 8ft 4in
Height: 10ft 4in
Weight: 20900 lbs
Brakes: SME
Motors: 2 GE 265
Control: K63G
Compressor: CP-27
Trucks: Cincin 12585-C
Description: Double End / Single Truck / Arch Roof / Safety
Arrived: 1992
Condition: Incomplete / unrestored / not operational
KP&L 419 Ownership History
1925-1947 – Knoxville Power & Light
1947-1992 – Privately owned, Knoxville, TN (shed)
1992-present – Illinois Railway Museum, Union, IL
Click to return to Streetcar roster
Click to return to main roster page